Astros add insult to injury for Oakland fans with distasteful deleted Tweet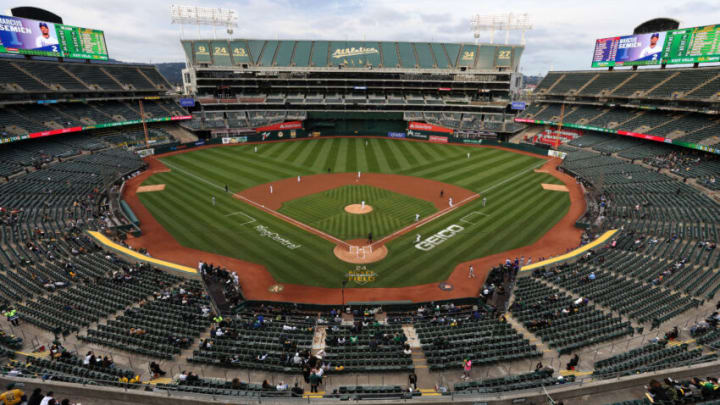 OAKLAND, CALIFORNIA - MAY 26: The Oakland Athletics play the Texas Rangers at a nearly empty RingCentral Coliseum on May 26, 2022 in Oakland, California. Attendance at Oakland Athletics baseball games have dwindled to historic lows as the team has traded away fan favorite players and continues to explore moving the team to Las Vegas if they can't reach a deal to build a new stadium near the Port of Oakland. The Athletics have the lowest attendance of all 30 Major League Baseball (MLB) as well as the league's lowest single game attendance for a May 2nd game that only drew 2,488 fans. (Photo by Justin Sullivan/Getty Images) /
The Houston Astros social team took one too many punches against Oakland fans who need a break.
Oakland sports fans have had it rough the last decade or so. You have to feel for them considering they have historically been incredibly passionate and supportive of their teams.
After losing the Raiders to Las Vegas in 2020, the team is now almost certainly going to lose the Oakland Athletics, too, who have binding land agreements to build a stadium not far from where the Raiders now play.
The area still has the San Francisco Giants and Golden State Warriors, as well as the nearby Sacramento Kings, but losing two teams in the span of a few years stings for the community.
The A's and the fanbase have been neglected by seemingly both their city and ownership of the team, who absolutely has refused to invest in the team while in Oakland, while immediately shelling out ridiculous amounts of money for the Vegas move.
The A's, unsurprisingly have the lowest payroll in the MLB this year. They also have the worst win percentage.
So you can understand why fans don't really go to games. The stadium is a dump, the team stinks, and the leaders of the team seem content mailing it in until they get to their shiny new digs a state over. Oakland ranks last in average attendance with fewer than 10,000 fans per game.
Astros dig at A's fanbase in a low blow Tweet
The Astros scored 10 runs against the A's on Sunday afternoon. They Tweeted "10 runs in front of tens of fans." The Tweet was removed early Monday morning, a proper action, but the fact that it went out in the first place is distasteful.
Dig at ownership. Dig at the city of Oakland if you really want to. But this team was not built to watch, and it certainly wasn't built to win. It's a low blow that calls out the fans for the sins of the people who have a responsibility to put a winning team out there.
The organization, quite simply, doesn't deserve attendance.
Oakland residents deserve better, and they don't need the Astros reminding them of that.