 The University of Oregon is known for their crazy uniforms and they're always trendsetting looks. One of the highlights of the college football season is seeing what new uniforms the Oregon Ducks will have on. Well know we at least know what one of their new helmets will look like thanks to a student produced video.
The students produced the video titled "Change" for a a Sports Media class at Oregon. In one scene they scan over helmets that include some lime green ones we haven't seen yet. One is a lime green helmet with chrome wings, the other is the opposite. A chrome/grey like helmet with lime green wings. That one also includes black on the face mask. If you don't feel like watching the entire video and learn about the change Oregon is facing here is a GIF of the moment.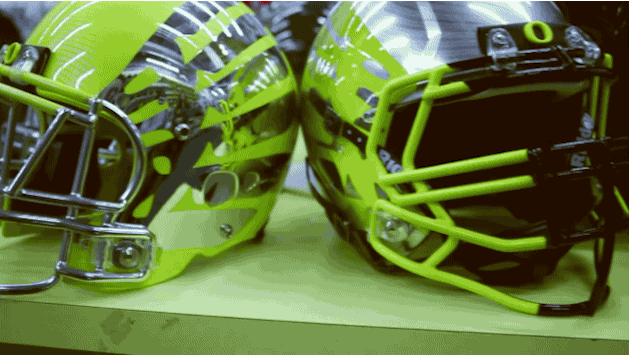 The theme of the video is change that the Ducks program is facing after head coach Chip Kelly left for the NFL and the head coach spot with the Philadelphia Eagles. The video says that Oregon isn't simply a fad but a tradition that is here to stay. That contradicts their fashion trendsetter status within the college football landscape, but we get the point.
Tags: Oregon Ducks