Eli Manning had a rough night against the Dallas Cowboys in the season opener. He finished the night with 3 total interceptions, 2 of which occurred during the first three possessions.
One of the interceptions came towards the end of the game and was returned by corner back Brandon Carr for the touchdown. Eli Manning tried to get there in time to make the tackle but couldn't. That led to a very upset and unhappy Eli Manning who threw his hands about in the air as he physically expressed his frustration.
In all fairness that particular interception wasn't Manning's fault. He hit the running back right in the hands and it bounced off him and Carr was waiting for it as it fell right in his lap.
"I thought he would just sit there, I would try to pop it to him, he would make a little move. Unfortunately, it's off his arm, I guess," Manning said. "You got some young running backs and some young guys, and we just have to get on the same page."
"I'm totally, totally disappointed and embarrassed by that kind of football," head coach Tom Coughlin said. "That's sloppy, sloppy football."
Despite the three interceptions he threw 450 yards and 4 touchdowns and had a 102.3 rating.
GIFs via Bleacher Report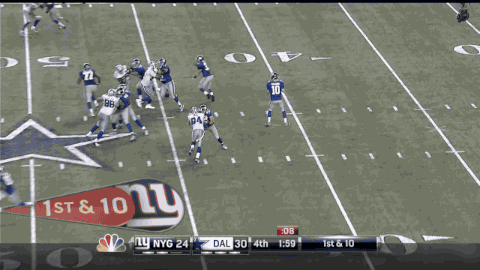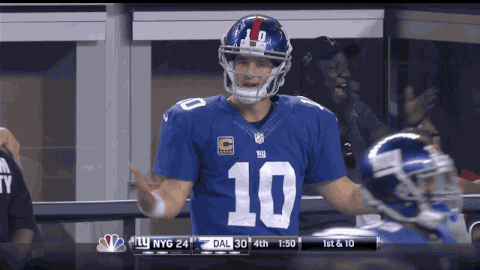 Tags: Eli Manning New York Giants