We saw an infographic come out earlier this summer that compared beer prices at all the Major League Baseball parks. Now we have one comparing the price of beer at all 32 NFL stadiums. The cheapest beer is at the Carolina Panthers games. If Cam Newton isn't enough to get you there, $0.27 a beer might be. That works out to $3.24 a beer, and that is right on par with what you'd most likely get charged at any bar.
The most expensive beer was in Detroit at Ford Field. I found that to be kind of surprising. The Lions charge $0.67 an ounce, that works out to a 12 ounce beer costing $8.04. That is just ridiculous.
Dallas less surprisingly came in second, albeit a distant second to Detroit, at $0.53 an ounce of beer. Did you really expect anything about Jerry Jones' stadium to be affordable or reasonable? That works out to $6.36 for a 12 ounce beer. As a Dallas resident I've known the drinks seemed to be over priced, now thats been validated.
Florida had fairly reasonable beer prices with Miami Dolphins having the second lowest at $0.35 an ounce, Tampa Bay was also in the bottom 4 at $0.36 an ounce.
Ohio seemed to agree at $0.42, the price in both Cleveland and Cincinnati. Most teams, 19 in fact charge between $0.42 and $0.45. The average cost of beer at an NFL game by the ounce is $0.44.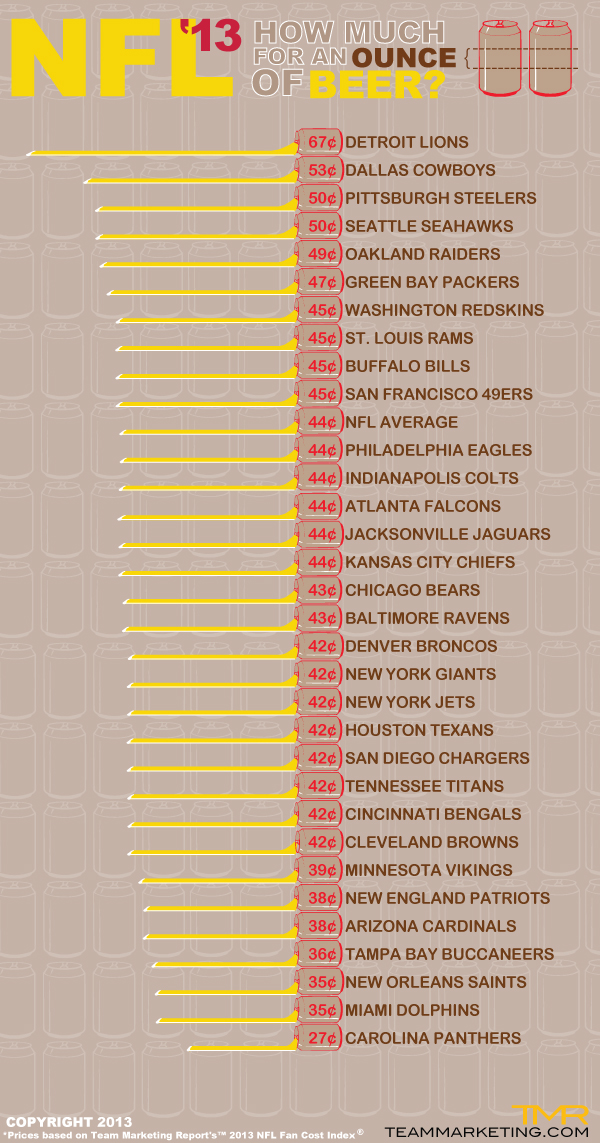 Bleacher Report
Tags: Carolina Panthers Dallas Cowboys Detroit Lions Miami Dolphins NFL