An angry Wisconsin fan took his anger out on former head coach Brett Bielema and his wife Jen Bielema. It all started with a tweet from the new Arkansas head coach's wife on Saturday. The #Karma tweet she sent out is because of Wisconsin's controversial loss to Arizona State this past weekend.
This is what happened, for those who missed it, according to USA Today:
With 18 seconds remaining and the ball at the Arizona State 13-yard line, Wisconsin quarterback Joel Stave ran the ball toward the center of the field in an effort to get the ball to the center of the field for a presumed attempt at the game-winning field goal. Stave touched his knee to the ground and then placed the ball on the ground.

There was initial uncertainty over whether Stave had taken a knee, given himself up or fumbled. As a result, several Arizona State players considered the ball live and attempted a fumble recovery.
According to the Pac-12 website:
Pac-12 Commissioner Larry Scott has reprimanded and taken additional sanctions against officials in Saturday night's Wisconsin at Arizona State game for failing to properly administer the end of game situation and act with appropriate urgency on the game's final play, it was announced today.
— Jen Bielema (@jenbielema) September 15, 2013
To fire back a clearly technologically advanced Wisconsin fan opened up Windows 95's Paint Program and created this beautiful graphic depicting the Bielemas as the bikini clad Princess Leia and Jabba the Hutt.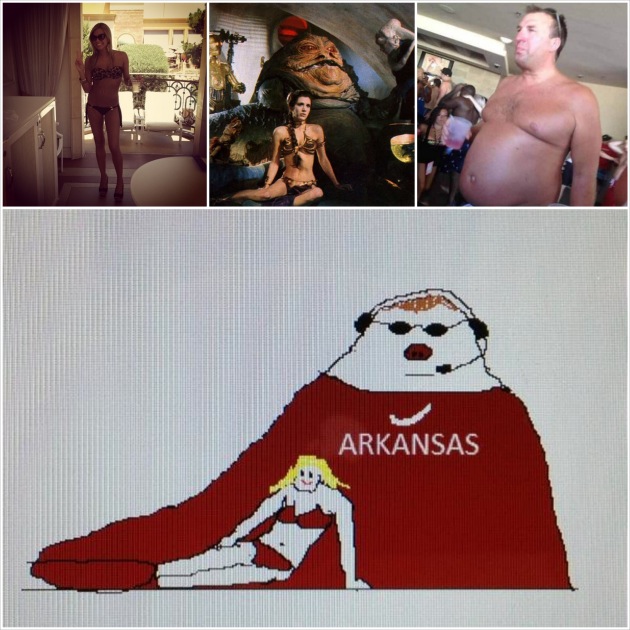 Bleacher Report
by way of
Lost Lettermen
Tags: Wisconsin Badgers