The Green Bay Packers went to Baltimore and defeated the Ravens, but the Packers took some injuries away from the game. Most notably, wide receiver Randall Cobb was injured on a reception when Ravens rookie safety Matt Elam hit him low. Packers quarterback Aaron Rodgers even confronted Elam.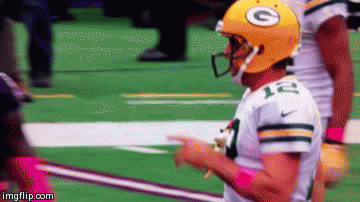 [h/t] Ravens
After the game, Rodgers expanded on his feelings about the play.
"I just felt like, from my vantage point, he had plenty of time to not take out a guy's legs in that situation," Rodgers later told reporters, via FOX Sports' Mike Garafolo.
"I think he could have hit him in the proper hitting zone, and that's what I told him," Rodgers said. "The other safety came over and actually made a very knowledgeable point, which I appreciated a little intelligent answer back and forth about some of the issues defensive players have to deal with (hitting in) the target area. I totally understand that and get that."
The point might have been the going high risk and helmet-to-helmet risk. Elam could have been aiming low on the body and didn't intend to go that low.
Nevertheless, it's a big loss for the Packers and you can understand Rodgers frustration. It certainly looks like it was preventable and he could've gone slightly higher.