Right now the Chicago Bears and the Detroit Lions are in a tough battle for first place in Chicago. The Lions were looking to add more points on the board, possibly a dagger as Chicago's offense has slowed since Cutler re-aggravated his groin injury.
Stafford and the Lions were driving down field after forcing Chicago to punt. Chicago's defense has struggled for the most part today, as they're still one of the best teams in the league when it comes to taking the ball away from the opposing team.
Chris Conte already had one interception this season as he picked up his second earlier today which set up a Chicago Bears field goal. The Bears would have had six points on the board on a toss to Forte, but there was a holding call which brought it back. A couple players later, Cutler was able to throw it into the corner of the end zone to Alshon Jeffery but he lost possession of the ball as he fell to the turf.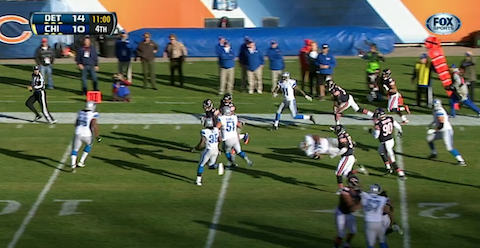 Tags: Chicago Bears Chris Conte