With so many eyes from NFL scouts and personnel on the draft prospects at the NFL Scouting Combine, there is plenty of pressure to perform at a high level and showcase your skill set. Unfortunately, sometimes there is an embarrassing stumble that takes place.
For Georgia Southern defensive back Lavelle Westrbooks, that became a realization on Tuesday during on-field drills at Lucas Oil Stadium.
Westbrooks was attempting to locate the ball when he mistimed his jump, missed the ball and tumbled right onto his face.
Whoops.
Here is a GIF of Westbrooks' little stumble: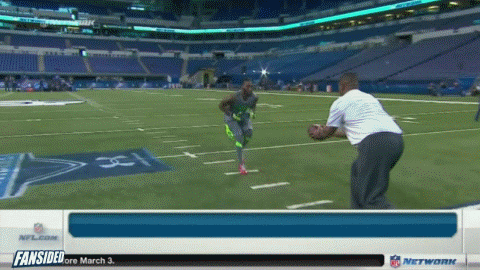 The good news for Westbrooks is that he bounced right back up and finished the drill.
The fall won't hurt his evaluation in the eyes of NFL scouts because he was giving a full effort, but it was a funny little moment in what can otherwise be a stale viewing experience for those who are not completely in love with the draft.
Tags: 2014 NFL Draft Lavelle Westbrooks NFL NFL Draft NFL Scouting Combine