Saul "Canelo" Alvarez was looking to bounce back from the first loss of his career on Saturday night, when he took on Alfredo Angulo at the MGM Grand Garden Arena in Las Vegas in a twelve-round junior welterweight bout.
In the first round, Alvarez was cleaning Angulo's clock with a series of vicious combinations, but Angulo was able to eat the punches and continue pushing forward. The first-round was all Canelo as he outstruck his opponent 37 to 10.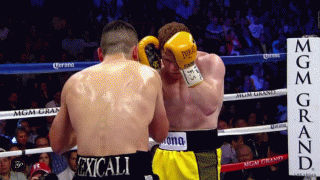 The action continued in the second with another strong round from Canelo as he began establishing a dominant straight right that continued to pepper Angulo. Alvarez once again had a big advantage in strikes with 45 to Angulo's 9.
After just two rounds, Angulo was already showing some serious damage on his face.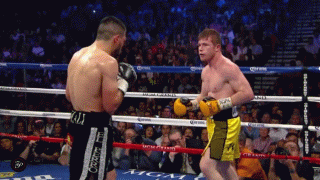 While the fight was all Canelo throughout the first three rounds, it was impressive to see the determination from Angulo who was able to stay on his feet despite taking vicious shots over and over again.
Not only was Canelo able to throw a high volume of punches, but they were landing with staggering accuracy.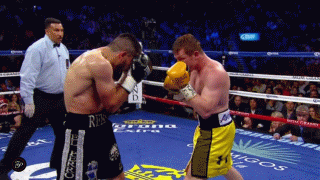 Canelo appeared to slow down his pace after the quick start to the fight, but he was still doing enough to keep pushing Angulo and putting the fight out of reach.
The story of the fight continued to be Canelo's incredible accuracy and pure dominance throughout the fifth and sixth rounds, as he continued to pepper away at Angulo and put himself in position to score the easy win after the first half of the fight.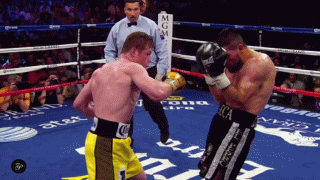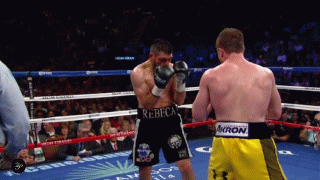 While Canelo couldn't miss, Angulo had failed to land any significant shots at the midway point. If he wanted to come away with the win, as unlikely as it seemed after six rounds, he was going to need to find a way to completely change the momentum of the fight.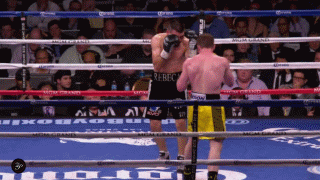 Angulo found a little bit of offense in the seventh round by backing Canelo up against the ropes, but Alvarez was able to deflect most of the shots off of his gloves and avoid serious damage.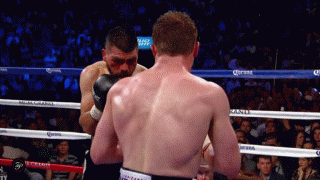 Despite throwing the high volume of punches, Canelo showed no signs of fatigue and managed to continue the pace and dominance in the fight. It looked like he could be on his way to a clean sweep if he did not end up just finishing the fight.
The crowd was clearly backing Canelo and the roars got louder after each round as they began to smell victory.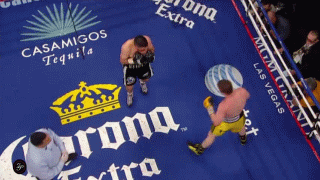 Canelo was showing off his confidence in the eighth round by leaving his hands down and standing directly in front of Angulo begging him to take a big shot so that he would open himself up for a counter.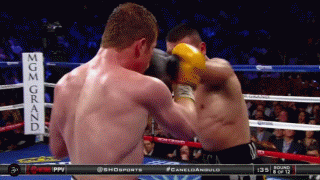 Angulo was able to finally put together an impressive round in the eighth by controlling the ring and landing the shots that Canelo was allowing him to throw, but he was still far from Canelo on the judges scorecards and would need a miracle to pull off the win.
Canelo landed a huge uppercut in the ninth round that hurt Angulo badly, but he was unable to put Angulo away.
The fight came to an end in the tenth round, after Canelo landed another huge uppercut that forced referee Tony Weeks to jump in and call a stop to the action. It was an odd stoppage that left the crowd unhappy, but Weeks was protecting Angulo from any further punishment.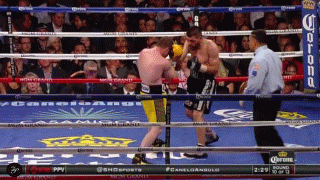 It was a great night for Alvarez despite the questionable stoppage, and he is clearly back on the right track after his setback against Floyd Mayweather last year. For Angulo, he is left with the battle wounds on his face.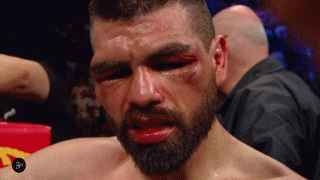 Dick's Sporting Goods presents "Hell Week":