Here is some light-hearted news to take our minds off of the Donald Sterling allegations that have dominated today.
On a fast-break, Lebron James stared down Charlotte Bobcats owner Michael Jordan before finishing a dunk.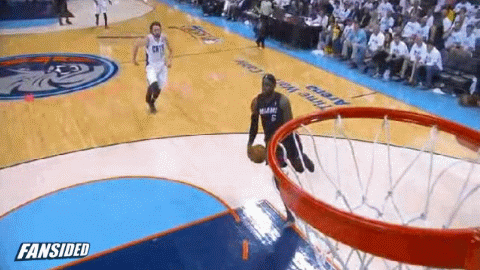 There's no apparent rivalry between the two All-Timers, but based on comments we've heard from Jordan, a player almost everyone anoints as the greatest NBA player to ever play the game, you can tell he feels some type of way about Lebron James. And based on James' face as he rose for his signature, break-away dunk, he enjoyed every moment of the stare down.
Since high school, Michael Jordan's success has been the measuring stick for how we judge Lebron James, fairly or unfairly. They rocked the same number and were both expected to carry then-obscure teams (CHI, CLE) to the glory lands. Prior to joining the Miami Heat, the conversation was whether James could carry his team like Jordan. Three-years later the conversation has slowly turned into "Can Lebron topple Jordan as the greatest player of all-time". Depending on who you ask you get three different answers: 1) No, 2) Yes, and 3) Yes, he already has.
Heading into the fourth quarter, the Miami Heat have a 20-point lead over the Charlotte Bobcats behind Lebron's 28 points, 7 rebounds, and 6 assists. Someone ask Michael Jordan how he feels right now.
And a video of the stare down:
Tags: Charlotte Bobcats Lebron James Miami Heat Michael Jordan NBA