Half-man. Half-amazing.
With 1.7 seconds on the clock after Manu Ginobili hits the go-ahead jump shot in game 3 of Mavericks-Spurs, the series tied 1-1, reserve guard Vince Carter hits the buzzer-beating three to deliver the Mavericks a win.
(Video via Sports Illustrated)
Prior to Game 3, Vince Carter's play was subpar, scoring 10 points in Game 1 and 8 points in Game 2, and before hitting the game-winning jump shot, Carter was shooting 2-of-7 from the field, 0-for-2 behind the arch. But in a desperation attempt, pump-faking Manu Ginobili away to create space, Carter delivered when it mattered most.
The three-pointer made by Carter was only his second made three of the postseason.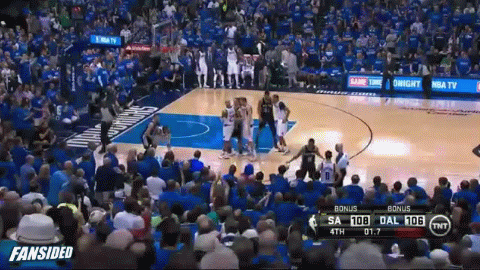 Not many people gave the Dallas Mavericks much of a chance going into this series. As the Mavericks were defeated by the Memphis Grizzlies on the last day of the season, being sent to San Antonio was looked at as a death sentence, but through the first three games of the series, the Mavericks have looked like the better team, all while Dirk's play has been very pedestrian. Not receiving one vote first-place vote for Coach of the Year, Rick Carlisle is proving to the doubters that he's one of the best coaches in the league.
With Vince Carter's game-winning three-pointer, the Dallas Mavericks unsuspectingly take a 2-1 lead over the San Antonio Spurs heading into game 4.