The Cleveland Browns were sitting on the clock at No. 4 overall after the Jacksonville Jaguars selected UCF quarterback Blake Bortles, when the Buffalo Bills made the first trade up in the draft to jump up from No. 9 overall with Sammy Watkins and Khalil Mack both still on the clock.
The Bills had been rumored to be interested in a trade and they were able to make it happen.
When NFL commissioner Roger Goodell announced the pick, the Bills had selected Clemson wide receiver Sammy Watkins, which gives young quarterback E.J. Manuel a new weapon on the outside.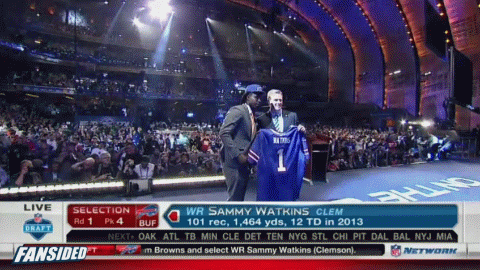 Here is a closer look at Watkins:
Below are the updated NFL Draft results:
1. Houston Texans: Jadeveon Clowney, defensive end, South Carolina
2. St. Louis Rams (via Redskins): Greg Robinson, offensive tackle, Auburn
3. Jacksonville Jaguars: Blake Bortles, quarterback, UCF