The Philadelphia Eagles were on the clock at No. 22 overall, and they watched safeties Calvin Pryor and Ha Ha Clinton-Dix get taken off of the board. With the safeties gone, Michigan State's Darqueze Dennard seemed like a logical pick to help the secondary, while Johnny Manziel, who Chip Kelly recruited at Oregon, was also an intriguing option.
Interestingly enough, the Browns pulled a fast one and traded up with the Eagles to make the pick at No. 22.
When the pick was in, the Browns ended Johnny Manziel's long wait.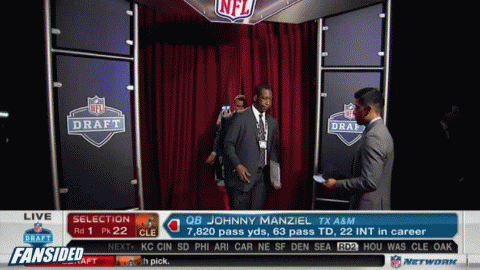 The Browns were aggressive and moving all around the draft, and all they needed to do was give up a third-round pick to move up for Manziel.
If he works out, the team finally has their quarterback of the future.
Current draft results:
1. Houston Texans: Jadeveon Clowney, defensive end, South Carolina
2. St. Louis Rams (from Redskins): Greg Robinson, offensive tackle, Auburn
3. Jacksonville Jaguars: Blake Bortles, quarterback, UCF
4. Buffalo Bills (from Browns): Sammy Watkins, wide receiver, Clemson
5. Oakland Raiders: Khalil Mack, linebacker, Buffalo
6. Atlanta Falcons: Jake Matthews, offensive tackle, Texas A&M
7. Tampa Bay Buccaneers: Mike Evans, wide receiver, Texas A&M
8. Cleveland Browns (from Vikings): Justin Gilbert, cornerback, Oklahoma State
9. Minnesota Vikings (from Browns via Bills): Anthony Barr, linebacker, UCLA10. Detroit Lions
10. Detroit Lions: Eric Ebron, tight end, North Carolina
11. Tennessee Titans: Taylor Lewan, offensive tackle, Michigan
12. New York Giants: Odell Beckham Jr., wide receiver, LSU
13. St. Louis Rams: Aaron Donald, defensive tackle, Pittsburgh
14. Chicago Bears: Kyle Fuller, cornerback, Virginia Tech
15. Pittsburgh Steelers: Ryan Shazier, linebacker, Ohio State
16. Dallas Cowboys: Zack Martin, offensive tackle, Notre Dame
17. Baltimore Ravens: C.J. Mosley, linebacker, Alabama
18. New York Jets: Calvin Pryor, safety, Louisville
19. Miami Dolphins: Ju'Wuan James, offensive tackle, Tennessee
20. New Orleans Saints (via Cardinals): Brandin Cooks, wide receiver, Oregon State
21. Green Bay Packers: Ha Ha Clinton-Dix, safety, Alabama
22. Cleveland Browns (from Eagles): Johnny Manziel, quarterback, Texas A&M