The Dallas Cowboys were on the clock with the No. 16 overall pick in the draft, and none other than Johnny Manziel was still on the board. It was a Cowboys fans worst nightmare — or dream if you wanted Manziel to stay in Texas — but the team had better needs that they needed to address.
Whether it be defensive line or safety, the Cowboys needed to improve on the defensive side of the ball.
When NFL commissioner Roger Goodell read the Cowboys pick, Jerry Jones resisted the temptation of Manziel and went with a safe pick in Zack Martin, who can start all five positions along the offensive line.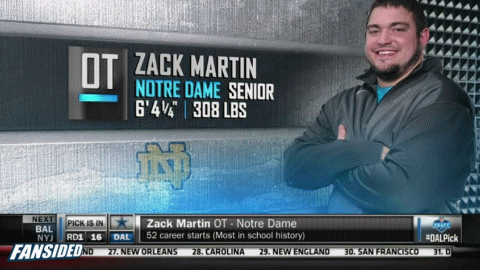 Current draft results:
1. Houston Texans: Jadeveon Clowney, defensive end, South Carolina
2. St. Louis Rams (from Redskins): Greg Robinson, offensive tackle, Auburn
3. Jacksonville Jaguars: Blake Bortles, quarterback, UCF
4. Buffalo Bills (from Browns): Sammy Watkins, wide receiver, Clemson
5. Oakland Raiders: Khalil Mack, linebacker, Buffalo
6. Atlanta Falcons: Jake Matthews, offensive tackle, Texas A&M
7. Tampa Bay Buccaneers: Mike Evans, wide receiver, Texas A&M
8. Cleveland Browns (from Vikings): Justin Gilbert, cornerback, Oklahoma State
9. Minnesota Vikings (from Browns via Bills): Anthony Barr, linebacker, UCLA10. Detroit Lions
10. Detroit Lions: Eric Ebron, tight end, North Carolina
11. Tennessee Titans: Taylor Lewan, offensive tackle, Michigan
12. New York Giants: Odell Beckham Jr., wide receiver, LSU
13. St. Louis Rams: Aaron Donald, defensive tackle, Pittsburgh
14. Chicago Bears: Kyle Fuller, cornerback, Virginia Tech
15. Pittsburgh Steelers: Ryan Shazier, linebacker, Ohio State

Dick's Sporting Goods presents "Hell Week":
Tags: 2014 NFL Draft Dallas Cowboys