The Houston Texans were the first team to send their selection to NFL commissioner Roger Goodell as the 2014 NFL Draft got underway. There had been plenty of discussion about whether or not the team would trade away the pick, but they ultimately decided to hang on to the top selection and add the player at the top of their draft board.
When the selection was read by Commissioner Goodell, it was no surprise.
With the first pick of the 2014 NFL Draft, the Houston Texans selected none other than South Carolina defensive end Jadeveon Clowney.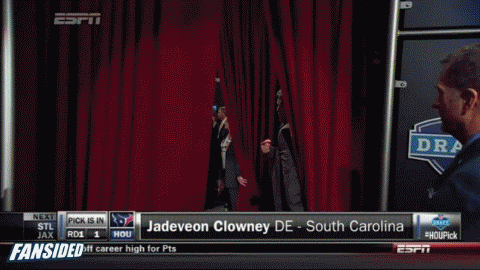 Clowney will now team up with former NFL Defensive Player of the Year J.J. Watt to give the Texans one of the most dynamic pass rushing duos in the National Football League. Quarterbacks around the AFC South will now need to pay close attention to both sides of the defensive line.
Here is a closer look at Clowney:
What do you think of the Texans selection at the top of the draft? Sound off in the comments section below with your thoughts.
Tags: 2014 NFL Draft Houston Texans