Like the Portland Trail Blazers yesterday, the Washington Wizards were one loss away from playoff elimination.
And like the Blazers, the Wizards are currently putting together a performance where their season will surely be extended another game unless a historic collapse happens. In their superb play, they're lead by center Marcin Gortat who just so happens to be dominating the opposition. Here is one of his few highlight plays where he throws down a dunk off of a John Wall assist.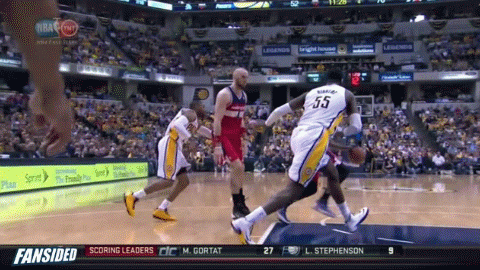 After below average play in games 2 and 3, Gortat has come out with a vengeance tonight. Currently in the third quarter, the Polish Hammer leads all players in scoring with 31 points on 13-15 shooting along with 16 rebounds and a block. And if you want a clear stat that shows how dominant Gortat has been tonight here is one: those 16 rebounds that Gortat has, the Indiana Pacers have the same amount. On a team-by-team comparison, the Wizards have a 53-16 edge on the boards over the Pacers, 17 of the 53 being on the offense end which is more than the Pacers have as a whole.
With Gortat (and John Wall) playing like this, it's hard to blame the Pacers. It's one of those games where the team who wins wins in a manner where it was never close or questionable. They just have to bring it like this for the next two games if the Wizards want to make the Eastern Conference finals.
Tags: Marcin Gortat NBA NBA Playoffs 2014 Washington Wizards