Defeating LeBron James twice in the NBA Finals, the most recent loss an embarrassing barrage, the San Antonio Spurs haven't had enough of making a mockery of the four-time NBA Most Valuable Player.
In their latest lashing at the best player in the NBA, Spurs fans have posted a billboard which states "Loyalty > Royalty", replacing the 'o' in each letter with the faces of Tim Duncan and James.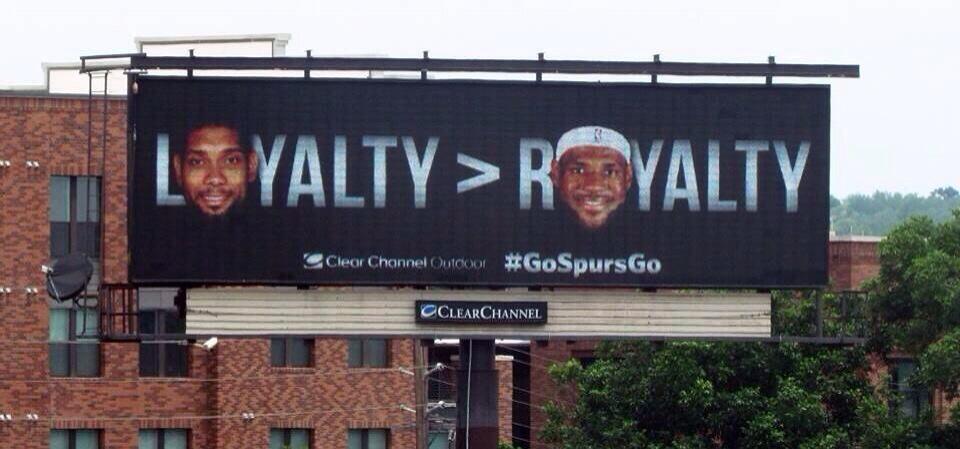 Let the Spurs fans tell it, there's only on way to win championships and that's stumbling on two persons who will eventually become the greatest power forward basketball has ever seen and the greatest basketball coach the NBA has ever seen, a.k.a. Tim Duncan and Gregg Popovich. There's also stumbling upon one of the best international players of all-time (Manu Ginobili) and one of the best point guards of the last ten years (Tony Parker).
Of course, if it was that easy the entire NBA would be doing. Yet, it isn't. We've seen teams blow lottery after lottery hoping to stumble on their Tim Duncan; seen coach after coach hoping to stumble on their Gregg Popovich. Instead majority of NBA franchise have found themselves middling and waning for success.
And unlike many before him, James took his future into his own hands, leaving Cleveland for a better situation in Miami during the summer of 2010, causing many to deem James as disloyal. But that isn't how it works. With owners refusing to show loyalty, players are finally returning the favor.
With the Spurs having a 2-1 advantage over James on the biggest stage of them all , maybe the fans will lay low until the two possibly meet again in the 2015 NBA Finals.
Tags: Lebron James NBA NBA NEws San Antonio Spurs Tim Duncan