The 2014 NBA Draft is officially underway, with the Cleveland Cavaliers getting the festivities rolling as the proud winners of the NBA Draft Lottery and owners of the No. 1 overall pick.
Leading up to the start of the draft, there was some trade speculation involving the Cavaliers and Philadelphia 76ers, but Philadelphia was unwilling to ante up and give the Cavaliers what they were looking for in exchange for the top pick.
As a result, the Cavaliers decision came down to either Andrew Wiggins of Kansas or Duke's Jabari Parker.
When NBA commissioner Adam Silver read the Cavaliers draft card, it was none other than Andrew Wiggins who was named the No. 1 overall pick in the 2014 NBA Draft and the newest member of the Cleveland Cavaliers.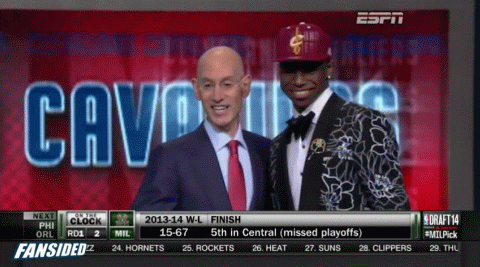 In Wiggins, the Cavaliers get an insanely athletic player with unlimited potential. Pairing Wiggins with Kyrie Irving gives the team a great one-two punch for the future.
It was the second straight year that a Canadian was drafted with the No. 1 overall pick.
If all goes well, the selection could also intrigue free agents – ahem, LeBron James — enough to have them strongly consider signing with Cleveland.
Be sure to stay tuned to FanSided.com throughout the remainder of the night for the latest news, results and rumors from the 2014 NBA Draft.