Athlete's siblings on Twitter are always seems saying the darndest things.
There's always Mike Vick's brother Marcus Vick and can't keep his trap closed on Twitter. Metta World Peace's brother Daniel Artest drew notice in a New York Knicks-based rant earlier last season. Now Washington Wizards guard Bradley Beal's brother Brandon Beal has joined the fold, tweeting that he can beat power forward Kris Humphries in a game of 1-on-1 .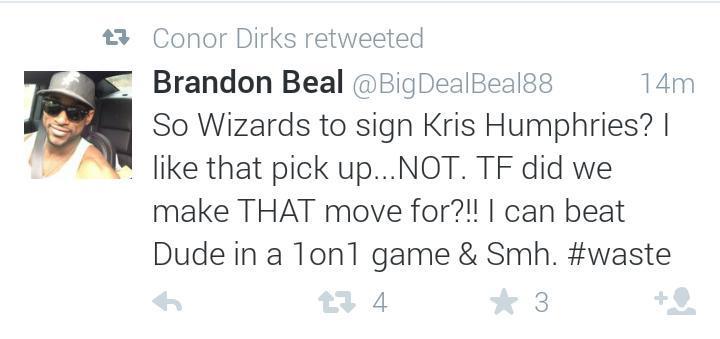 The thoughts of Brandon Beal reflect the thoughts of many. In the NBA–and life in general–once you become a "mockery" it's hard for one to ditch that angle. Since his fling with Kim Kardashian, Kris Humphries has been recognized more for his off-the-court antics than his actual basketball skills when in actuality, Humphries has been a solid NBA role player in that same time span.
And that's why Humphries and the Washignton Wizards recently agreed to a deal worth $10 million over the next three years. After losing Trevor Booker to the Utah Jazz, the Wizards desperately needed to fill in the reserve power forward spot, and Humphries is talented enough to contribute to one of the up-and-coming teams in the Eastern Conference.
Dating back to the 2010-11 season, Humphries has averaged 9.4 points and 8.2 rebounds per game while splitting time between the Brooklyn Nets and Boston Celtics. He's shown to be one of the best defensive rebounders in the NBA, and if his 47% mid-range shooting from last season carries over, it'll do wonders to the Wizards floor spacing when alongside John Wall.
The moral of the story is Kris Humphries isn't the terrible NBA play half the world thinks he is. And no, Brandon Beal–as well as the rest of America who finds Humphries to be a laughing stock–can't be him 1-on-1.
Let that dream die a fiery death.
Tags: Bradley Beal Kris Humphries NBA NBA Free Agency 2014 Washington Wizards