On Saturday night, former Arizona Cardinals and St. Louis Rams defensive back Aeneas Williams delivered a passionate speech as he was enshrined in the Pro Football Hall of Fame as part of the 2014 HOF class.
During his speech, Williams took some time to take a few shots at teams he played against in his lengthy career.
One of the main targets was the Dallas Cowboys, who Williams ripped with some hilarious comments.
Williams took a bit of credit for the building of the new Cowboys Stadium, after the Cardinals were able to upset them ten years before the construction.
The shot at Dallas also took aim at Michael Irvin, but it took a friendly turn when Williams thanked Irvin for helping to make him as great of a defensive back as he was during his playing days.
"God must not be with (the Dallas Cowboys) anymore." Aeneas Williams taking credit for building the Cowboys new stadium. Awesome. #HOF14

— Adam Rank (@adamrank) August 3, 2014
So how did the Cowboys players on stage react to Williams' comments?
Michael Irvin loved it.
Just look at the over the top laughter from the former Cowboys star receiver.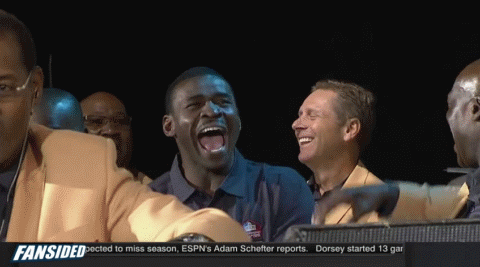 These are the kinds of moments that make the Hall of Fame enshrinement ceremony so special, and Williams nailed this part of his speech.
Tags: Arizona Cardinals Dallas Cowboys Michael Irvin Pro Football Hall Of Fame