It's been a bad week for ESPN personalities. First Stephen A. Smith was suspended for four shows due to comments made on the Ray Rice situation. Now, ESPN radio host Dan Le Batard will be suspended two shows by ESPN because of his latest troll efforts in regards to LeBron James' return to Cleveland.
ESPN has removed Dan Le Batard from the air for 2 days;it is upset with his radio show taking out "You're Welcome LeBron"billboards inCleve.

— Barry Jackson (@flasportsbuzz) August 7, 2014
… An ESPN statement says Le Batard's "recent stunt does not reflect ESPN's standards and brand. Additionally, we were not made aware…"

— Barry Jackson (@flasportsbuzz) August 7, 2014
… of his plans in advance. Le Batard said all of this was "meant in fun. it's just fun anarchy." He returns to TV and radio show Monday.

— Barry Jackson (@flasportsbuzz) August 7, 2014
What exactly did Le Batard do? After failed attempts of placing an ad inside the Cleveland Plain Dealer, Dan took his talents to the billboards, placing severals adds in the city of Akron, Ohio in which he trolls LeBron by implying that Miami is the reason he is a two-time NBA champion. Le Batard even threw in a dash of comic sans as homage to the popular Dan Gilbert letter about James from four years back.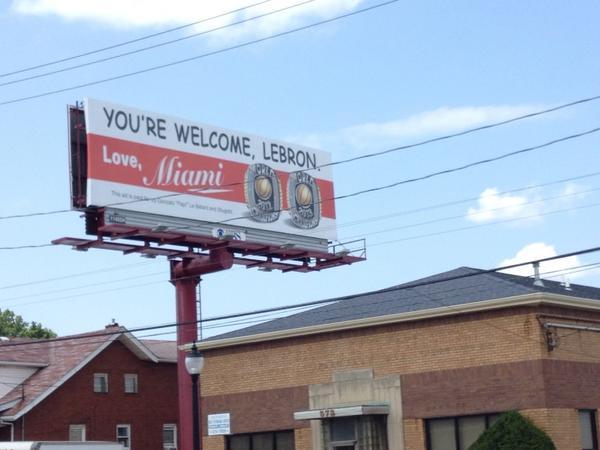 It's an odd suspension from ESPN, but it's clear they don't want to be connected with this type of trolling. Guess Le Batard will have to stick to the hilarious radio rants–that's if the Miami Heat are successful without LeBron.
Tags: Cleveland Cavaliers Dan Le Batard ESPN Lebron James Miami Heat NBA