The skills that made Jadeveon Clowney the No. 1 overall pick in the 2014 NFL Draft in May and the hype praised upon him as a generational talent was on full display as the former South Carolina defensive end made his NFL debut on Saturday evening for the Houston Texans.
Starting at right outside linebacker in Romeo Crennel's 3-4 scheme, Clowney was asked to drop back in pass coverage for the first time in his career and he showed he has a lot of work to do in that regard as he transitions from his natural end position in a four-man front.
Clowney dropped into coverage three times on his opening series and got burned badly on a wheel route that went for a touchdown, although it was later called back because of a penalty, he has work to do to live up to the hyperbolic praise.
However, when Clowney was put in a position to run at the quarterback instead of running away from the quarterback, he had little trouble showcasing the rare combination of speed, strength, acceleration and power that had scouts salivating at February's combine.
When Clowney lined up next to J.J. Watt, allowing both of them to receive man-blocking, the Cardinals offensive line couldn't slow the nasty duo down as Watt recorded the sack and Clowney was right behind the 2012 Defensive MVP.
Clowney didn't reveal his arsenal of pass-rush moves on Saturday night as he was strictly using a bull rush, so if there is an area you can criticize, it's that he will need to develop his repertoire to counter tackles and tight ends to get to the quarterback.
Speaking of tight ends, the Cardinals foolishly tried to block him with a tight end and the result was rather predictable as Clowney made his first highlight of his NFL career with this tackle for loss on Andre Ellington.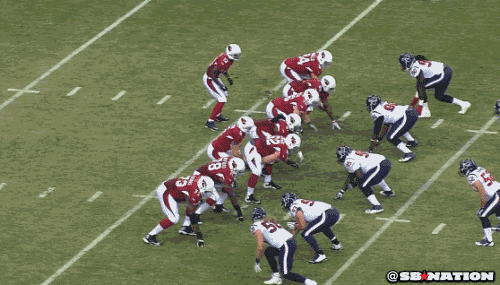 The sample size is small, but Clowney looks like the player who terrorized offenses in the SEC for the better part of the last three seasons as a Gamecock. Sure he has areas to improve upon as he transitions to a new position, but his ability to get to the quarterback and in the backfield was on display in his pro debut.
Do you think a star was born on Saturday night? Will Clowney justify the hype or will he resemble the player who was limited statistically as a junior at South Carolina? Let us know in the comments section below.
[Gif courtesy SB Nation]