2013 NFL Draft: Mock Draft Week 14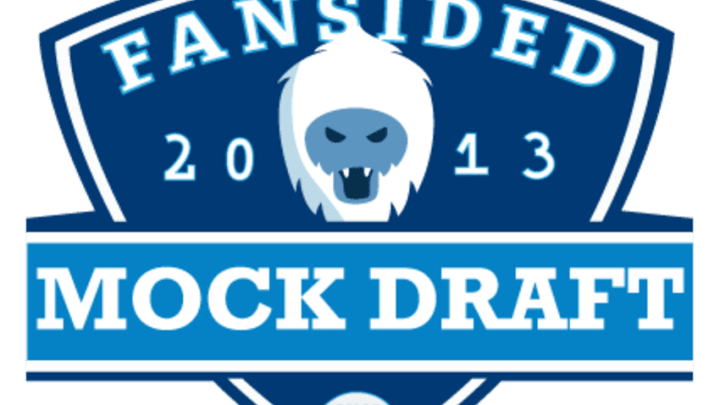 Each week Fansided.com will have a new mock draft to preview and showcase this upcoming April's draft. For more in depth analysis of each pick, be sure to visit the Fansided site of your favorite team and check back each Monday for a new and updated Mock Draft.
NOTE: This is as accurate a draft order as possible. As the season nears it's conclusion, the accuracy of the draft positioning will become more pin point. 
Kansas City Chiefs /
–
Luke Joeckel – OT/Texas A&M
Everyone is picking the Chiefs to go quarterback with this pick, but right now both signal callers could be argued as reaches at No. 1. So for argument sake let's say hypothetically say Aaron Murray from Georgia declares or Matt Barkley falls off the chart and K.C. grabs one of them at the start of the second day. If this is the case, the Chiefs would need someone to protect their quarterback project and that's all Luke Joeckel from Texas A&M. He's a monster on the line and rarely gets beat in his assignments. If the Chiefs are serious about rebuilding, history has proven that starts with protection, and while everyone is predicting the Chiefs go 'franchise quarterback', they also need a 'franchise tackle'. They'll still probably cave and go QB with the pick, but taking Joeckel in the first and someone like Murray, Barkley, Tahj Boyd or Landry Jones later in the draft makes some sense.
Jacksonville Jaguars /
– Bjoren Werner – DE/Florida State
If the Jaguars get the first pick, which they could end up getting if the Chiefs win one more game this year, they will be trading down with someone who either overvalues Geno Smith or doesn't think they'll get their guy in the top five. Werner would be an odd name to hear No. 1 or even No. 2 but don't confuse his relative low key name with low key talent. The Jaguars need a pass rusher and a fast one: that's Werner. He's quick off the snap, strong and athletic. He's also been known to swat balls down at the line of scrimmage, and that's quickly becoming a norm in the NFL for pass rushing lineman.
Oakland Raiders /
– Star Lotulelei – DT/Utah
He's at the top of almost everyone's draft board and for good reason. Experts say Lotulelei is ready to be an impact DT now in the NFL, and that he's one of the most complete defensive players in the draft class. The Raiders were once known as a rough 'em-tough 'em team due to their bone crushing defense. Lotulelei can be an anchor on the next generation of that Raiders swagger, and unless something changes drastically, he's a lock for Oakland or whoever ends up with the third pick.
Arizona Cardinals /
– Geno Smith – QB/West Virgina
With the success of RGIII, athletic quarterbacks like Geno Smith have seen their value inflate tremendously. Because of this, his hype will only build as we near the draft and he won't fall out of the Top 10. If the Chiefs pass on him, the Cardinals will mess themselves over their sheer luck. They need offensive line help, but for a team that needs a quarterback as bad as the Cardinals, they'll likely jump in half a second at the prospect of adding Smith.
Carolina Panthers /
– Jonathan Hankins – DT/Ohio State
The Panthers are awful against the run and need an upgrade at defensive tackle and Hankins is their man. If they continue to lose, which they didn't do on Sunday, they could be in the running for Star Lotulelei who is the top defensive tackle prospect in the draft. He likely won't slip past third overall and if he does fifth is the farthest he'd slide before someone traded up for him. Hankins may not be Lotulelei but he's far from being merely a consultation prize.
Detroit Lions /
– Manti Te'o – ILB/Notre Dame
Everything about Te'o works in Detroit. This is a case where Te'o won't just help fix the Lions reputation on the field, but ESPN and their cheesy special segments will go nuts with the charitable work he'll likely be doing in the Detroit community. It's no secret the Lions have a bad reputation, and adding Te'o not only upgrades the quality of the defense, but it balances out Ndamukong Suh's general surliness. Detroit could go Dee Milliner here, but if Te'o's on the board, Jim Schwartz is not wasting anytime in turning the card in.
Philadelphia Eagles /
– Chance Warmack – RG/Alabama
If the Eagles go anything but offensive line with their first pick, they'll need a lot of help to fight off the hoards of haters. Luke Jockel is their No. 1 target but if he's gone, Chance Warmack fills a giant need at right guard. Evan Mathis isn't terrible but he lacks second level ability. Warmack is the best lineman on the Tide's roster which is saying a lot about him. Jake Matthews could go here as well, but Warmack will be hard to pass up, and he can learn behind a former 'Bama lineman in Mathis.
Tennessee Titans /
– Demontre Moore – DE/Texas A&M
Moore can be just about anything you want him to be which is marvelous for a prospect. Moore can play outside linebacker in a 3-4 defense and can play either right or left end in a 4-3, they kind of defense the Titans employ. He's insanely underrated in terms of his overall value and skill set. Aside from being versatile, Moore can be both blinding off the edge or hold his own against the run. The Titans need depth at defensive end, and Moore is a no-brainer if he's available.
Buffalo Bills /
– Barkevious Mingo – DE/LSU
Mark Anderson is a pillow on the Bills line, and every time he sets foot on the field with the defense the team gets dramatically worse. Buffalo wants a franchise quarterback, but as we discussed with the Chiefs pick, there are guys other than Smith/Wilson/Barkley in this draft that you can get later. Mario Williams needs someone to compliment him on the other end of the defensive line and Mingo is a rare breed. He's quick, has an elite first step and is NFL ready according to experts.
Cleveland Browns /
– Jarvis Jones – OLB/Georgia
Thanks to the new CBA, teams can now not only focus on positional needs but can go after the best player available. The Cleveland Browns need a lot of help still, and they must continue to just stock pile as much high quality talent as possible. Jones is No. 1 on Mel Kiper's draft board and very well could be taken way ahead of here. But if things play out as they have here, the Browns are getting an absolute steal at No. 10 in Jones.
New Orleans Saints /
– Sheldon Richardson – DT/Missouri
New Orleans needs to beef up their front line that is one of the worst in the NFL. If the Saints are picking this high, I'm hard pressed to not have them pick Dee Milliner as their secondary needs a lot of help was well but that's a need that can be addressed later in the draft as guys like Richardson are not common.
San Diego Chargers /
– Taylor Lewan – LT/Michigan
There is going to be a regime change in San Diego and whether or not that means the end of Philip Fivers is yet to be known. But no matter if they keep him or grab Cali kid Matt Barkley, the Chargers need to protect whoever is under center. Jake Matthews is a common pick, but Jared Gaither is alright at right tackle. Stephen Schilling at left tackle is not; Schilling is an alright lineman at best and Lewan is one of the best tackles in the country. You do the math.
Miami Dolphins /
– Jonathan Cooper – RG/North Carolina
Ryan Tannehill needs a big wide receiver to throw to, but what people tend to forget is that a quarterback needs protection in order to throw to said big target. Richie Incognito gets blown up more than he protects and a change needs to happen on the line. The Dolphins may move away from Jake Long this offseason and need another elite lineman to move them into the future.
Tampa Bay Buccaneers /
– Dee Milliner – CB/Alabama
If he falls to the Bucs, don't expect any hesitation like last year in drafting the this year's top cornerback prospect. The Buccaneers have the league's worst secondary and are looking to move into the future after trading away Aqib Talib. Tampa Bay has had success with former Tide star Mark Barron, and they could go back to the well and grab 'Bama's top cornerback to get a true No. 1 defensive back.
New York Jets /
– Dion Jordan – DE/Oregon
The Jets have quarterback issues and fans want to usurp Mark Sanchez in lieu of just about anyone else. But there's no quarterback worthy of a Top 15 pick outside of Geno Smith and that's pushing it. Dion Jordan can step in and fill a need at defensive end, as the Jets need some serious help up front. Jordan is fast, athletic and his stock is only going up.