2013 NFL Mock Draft: Wild Card Edition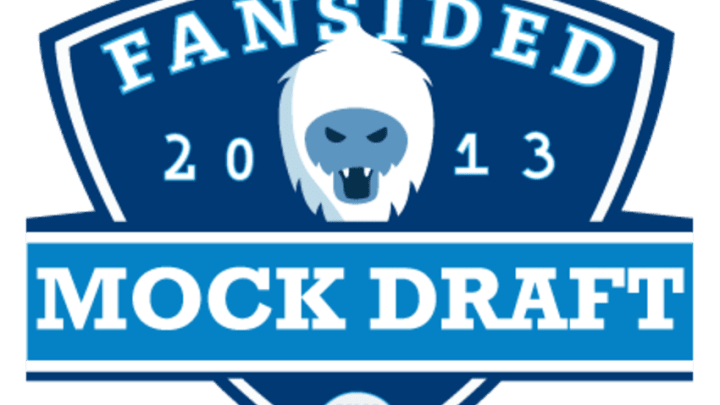 Each week Fansided.com will have a new mock draft to preview and showcase this upcoming April's draft. For more in depth analysis of each pick, be sure to visit the Fansided site of your favorite team and check back each Monday for a new and updated Mock Draft.
NOTE: This is as accurate a draft order as possible. Currently, the top 20 spots are set. The remaining picks will be determined as team's are eliminated from the playoffs. 
1.
– Luke Joeckel, OT/Texas A&M
I had this pick in my mock a few weeks ago, and it's starting to go mainstream with some draft experts. With Andy Reid in town, the Chiefs will be going in an entirely new direction (well actually it'll just be nice for them to be going in a direction), and Reid himself hinted that the Chiefs could opt to go with a quarterback later in the draft. If that's the case, the only player they can take is A&M's Luke Joeckel, who is arguably the best tackle in the country — including NFL guys. Reid lost his job because his offensive line in Philly couldn't block and now that he's in Kansas City, it has got to be in the forefront of his mind. If the Chiefs go with Joeckel here, expect Landry Jones or Matt Barkley to come off the board at the start of the second day.
2
. 
Could Aggies go back-to-back to kick off the NFL Draft? Moore's a monster of a prospect and he's in the top 5 of both Mel Kiper Jr., and Todd McShay's big boards. It's only January and Moore has insane hype, hype that should only build over the months and boost his already high draft stock. The Jaguars need a boost on defense, and if they lose strongside linebacker Daryl Smith in free agency, Moore can possibly be plugged in as a replacement. If nothing else, Moore can be a menacing edge rusher for the Jaguars, something they also desperately need.
3. Oakland Raiders – Jarvis Jones, OLB/Georgia /
Mostly everybody has Star Lotulelei going to the Raiders at No. 3, but if Jones is available then Oakland is going to have a decision on it's hands. While Lotulelei plugs a hole in the middle, Jones is everything else and more. He's got violent hands, comes flying off the snap and can even drop back into coverage as a linebacker. Jones can play all over the place and the Raiders need a guy to anchor a defense that always has promise but lacks execution.
4. Philadelphia Eagles – Taylor Lewan, OT/Michigan /
If Luke Joeckel is here, the Eagles grab him in a heartbeat and probably won't even need to start their draft clock. But if he's gone, Philly's going to have to opt for Plan-B which is likely Taylor Lewan from Michigan. Philly needs help up front, and Lewan is more than just a decent runner-up to Joeckel. If the Eagles want to avoid the meltdown that ran Andy Reid out of town after over a decade of hard work, they'll need to protect Nick Foles better than they've ever protected a quarterback.
5. Detroit Lions – Bjoern Werner, DE/Florida State /
Manti Te'o fits perfectly with the Lions, but I have a feeling he's going to take a slide as we near the draft. Bjoern Werner, on the other hand, is a Top 5 prospect that the Lions would love to sink their teeth into. With Kyle Vanden Bosch entering the final year of his contract and Cliff Avril likely to leave in free agency, Detroit needs an edge rusher to match it's young and talented front line. Werner is quick off the snap and is tough to deal with, which fits the Lions all too perfectly.
6.  Cleveland Browns – Dee Milliner, CB/Alabama /
Cleveland is going through a total regime change, but one constant that will be addressed is improving the defense. Last season Cleveland tried to upgrade the offense with Trent Richardson and this year they may dip back into the 'Bama pool to pick a defensive player. Milliner is the top corner prospect in the draft and would do wonders to a Browns secondary that showed flashes, but was ultimately too easily figured out.
7. Arizona Cardinals – Mike Glennon, QB/North Carolina State /
Every year we have quarterbacks taken even if they don't belong there, however Glennon's stock it skyrocketing with Mel Kiper predicting that he could be the first signal caller off the board. Expect the hype around North Carolina State's star player to only go up as we near the draft. It's not a sure bet that Glennon is taken this high, but quarterbacks have a tendency to fluctuate in value when it comes to the NFL Draft.
Buffalo Bills
The Bill also desperately need a quarterback and if they can't get Glennon, it's looking like they'll settle for Tyler Wilson. But if the actual draft plays out like this mock, don't be surprised to see the Bill jump at Geno Smith if he's available. Buddy Nix has entertained the idea of possibly signing Micheal Vick, but if he can get a younger, healthier and much cheaper version of Vick in Smith that might be the move he makes. The hype around Wilson is starting to grow immensely and he, along with Glennon, would be the best quarterbacks on the board when the Draft begins.
9. New York Jets – Barkevious Mingo, DE/LSU /
Mingo is a rare breed and he's what the Jets may be looking for. He's quick, has an elite first step and is NFL ready according to experts. Every Jets fans in the world wants a quarterback but not only are they stuck with Mark Sanchez, there isn't one good enough for them to take a chance on. Mingo might be able to give a poor Jets defense an adrenaline shot it desperately needs and maybe take some pressure off of Sanchez by winning games on defense.
10.  Tennessee Titans –  Star Lotulelei, DT/Utah /
Tennessee needs to upgrade their defensive line, and Lotuleleli is destine to take a fall in the draft. Scouts say Lotulelei is the most complete and NFL-ready tackle in the draft and he'd help plug a terrible run defense in Carolina as well as penetrate the line. It's a different pick, but it's not one the Titans should sleep on, especially if Mike Munchak wants to keep his job for another year.
11. San Diego Chargers  – Dion Jordan, DE/Oregon /
San Diego would love to take an offensive lineman, but if Tyler Lewan is off the board, the Chargers could use some upgrading on their front line, particularly with a dominating edge rusher. Dion Jordan is a name quickly climbing mock drafts and big boards and it's not for no good reason. He's got Jason Pierre-Paul potential as Jordan is fast, athletic and his stock is only going up. The Bengals are a team themselves quickly rising in the NFL and if they can get a dominating defense to compliment their offense, we may have a new power take over in the AFC North.
12. Miami Dolphins – Keenan Allen, WR/California /
Allen's stock went way up in this latest mock and that has to do with two things. The first is, he's a standout talent and can be a No. 1 receiver on every team in the NFL. The other reason happens to be the Dolphins need a No. 1 receiver very badly for Ryan Tannehill to throw to. Miami got their franchise guy last year and now need a franchise target. Allen is tall, he's productive and the only reason his stock isn't higher is because he's on an awful team.
13. Tampa Bay Buccaneers – Johnathan Banks, CB/Mississippi State /
I'm saying Banks here only because the Buccaneers need a cornerback. I personally believe that with a stockpile of picks and really only one or two dire needs, the Buccaneers trade up and grab Dee Milliner. But If the Buccaneers draft Banks, it won't be a No. 13, as they'll happily trade down and stockpile even more picks and still get the guy they need. With Eric Wright rumored to be gone soon though, there is no way the Buccaneers are drafting anything other than a cornerback in the first two rounds.
14.  Carolina Panthers – Sheldon Richardson, DT/Missouri /
When it comes to Richardson, scouts are absolutely high on him and he's got a lot of evidence to back up all the hype. He's got a lighting fast first step and can penetrate backfields like some of the top defensive tackles in the NFL. He's fluctuating in value right now, but all signs are pointing to Richardson seeing his value take a jump as we get closer to the draft.