2013 NFL Mock Draft: Wild Card Edition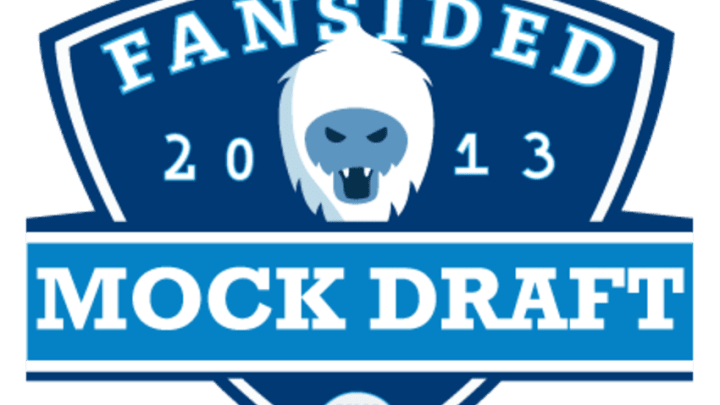 15.  New Orleans Saints – Johnathan Hankins, DT/Ohio State /
The Saints need an upgrade at defensive tackle and Hankins is their man. If they continue to lose, which they didn't do on Sunday, they could be in the running for Star Lotulelei who is the top defensive tackle prospect in the draft. He likely won't slip past third overall and if he does fifth is the farthest he'd slide before someone traded up for him. Hankins may not be Lotulelei or Sheldon Richardson but he's far from being merely a consultation prize.
16.  St. Louis Rams –  Chance Warmack, OG/Alabama /
It's rare to see a guard taken very high in the draft, but Chance Warmack isn't your typical offensive guard. Many view Warmack as the third best prospect out of the talent being pooled for this year's class. The Rams would love to beef up their offensive line and if they can, they'll double dip on lineman to further protect Sam Bradford. Eric Fisher is an option here, but Warmack will have far more suitors than Fisher will between this pick and the Rams next first round selection.
17.  Pittsburgh Steelers – John Jenkins, NT/Georgia /
The Steelers need to upgrade their defense across the board, and that has more to do with age than it does talent. While Manti Te'o is a decent pick here, seeing as the Steelers run with two interior linebackers, nose tackle Casey Hampton is one of the oldest players on the defense, and Jonathan Jenkins is a vastly underrated prospect. Either Te'o, who like my colleague Josh Sanchez says as well, will fall in this draft and Pittsburgh could use either one.
18. Dallas Cowboys – Geno Smith, QB/West Virginia /
The Cowboys and Rob Ryan would have loved to grab John Jenkins with this pick, and are livid that he went to Pittsburgh who everyone thought would take Manti Te'o. But this affords them an opportunity to do something they haven't done, and many Cowboys fans are expecting them to do: replace Tony Romo. In all his years, Romo has failed to get the Cowboys anymore than a single playoff win and on most teams, his clock would have expired long ago. Plus, Smith struggled in wild weather situations while at West Virginia, and the Cowboys play in a controlled environment for eight games a season. Drafting Smith doesn't mean he'll immediately usurp Romo, but at the very least the Cowboys have a succession plan in place for when Romo is finally finished in Dallas.
19. New York Giants – Ezekial Ansah, Defensive End, BYU /
Ansah is case of a no-name player (to the greater NFL viewing public) that has launched himself into first round consideration, and for good reason too. Ansah has lined up at nose tackle, five-technique DE and outside linebacker in BYU's 3-4 scheme, and versatility is something the Giants love on defense. Scouts have said he has a rare combination of size, speed and natural athleticism are evident. He's a lightning quick edge rusher, but can fit about anywhere the Giants ask him to play.
Chicago Bears
There was a discussion earlier this year as to whether or not the Chicago sports community should claim Notre Dame as their own. While that is a topic of debate still, the man leading the charge for the Irish could wind up in the Windy City. Brian Urlacher is likely not going to return to Chicago, meaning the Bears will have a massive void to fill with his departure. Te'o will be able to step up and be a leader in the locker room, be a menace on the field and he'll become a staple in a gang ravaged Chicago community that needs all the help it can get. By drafting Te'o, more than just the Bears win — the great city of Chicago wins as well.
21. Cincinnati Bengals – Sam Montgomery, DE/LSU /
Montgomery is a monster and was more productive than his teammate Barkevious Mingo who will be selected well ahead of him in the draft. The knock on him is that his ceiling isn't as high as Mingo's but that shouldn't stop him from being a mid-round pick as he fits in just about any 4-3 defense in the NFL and can make plays now. The Bengals would love to lock down the edges on defense, so while he's slipping in most mocks, Montgomery will be a much welcomed upgrade.
22. St. Louis Rams (From Redskins) – Eric Fisher, OT/Central Michigan /
This draft will be all about building for the future rather than filling flashy needs. A wide receiver here is a flashy need, while taking standout Eric Fisher is a move that shows the Rams know what they're doing and are serious about getting really good, really soon. Oh, getting Steven Jackson an offensive line for the first time in his career will likely convince him to stick around a little longer.
23. Minnesota Vikings – Tavon Austin – WR/West Virginia /
The Vikings would love to get Mistral Raymond off the field, but with Christian Ponder starting to come around, the Vikings will likely focus on bringing in another target. General manager Rick Spielman is allergic to spending money, as the Vikings passed on Vincent Jackson last season when they could have gotten him. But the bigger issue is Percy Harvin, who it seems is closer and closer to severing his ties with the Vikings and vice versa. Harvin was a gem for the Vikings and Austin is a younger clone of him. If the Vikings trade him this season they might get a high second round pick that will allow them go defense in the draft as to eliminate the need for things like A.J. Jefferson and Raymond.
24. Indianapolis Colts – Jesse Williams, DT/Alabama /
The Colts have been getting gashed by running backs all year long, and Jamaal Charles going ham on their front line should be the final straw when it comes to upgrading the line. Williams is all brawn and that's what the Colts need badly on their defensive line, and what we saw from him in the SEC title game at the beginning of the month is something Jim Irsay would love to see on a weekly basis on a team that's already playoff worthy.
25.  Baltimore Ravens – Alec Ogletree, ILB/Notre Dame /
With Ray Lewis retiring, the Ravens need another linebacker of the future and Georgia's Alec Ogletree could fill in very nicely for the departing Lewi. Ogletree will come in, be a leader and has the potential to be a top  in Baltimore. The Ravens defense is getting old, and they'll need to start upgrading it across the board, but they'll beed to lessen the blow of losing Lewis, who has been the only anchor this defense has ever known.
26. Seattle Seahawks –  Cordarrelle Patterson, WR/Tennessee /
The Seahawks have managed with the receivers they have, but they need some serious upgrading if they want this whole being good thing to last. Sidney Rice is getting beaten to a pulp, always struggling with injuries and Doug Baldwin isn't a No. 1. Patterson would give Russell Wilson a giant deep threat to compliment Baldwin and all the offense to open up even more than it already has.
27. San Francisco 49ers – Kenny Vaccaro – S/Texas /
There isn't much that needs improving in San Francisco, but if there has to be something added, the 49ers would love another safety. Vaccaro has looked great on a bad Texas defense and should he head to Baltimore, it would again be a case of the rich getting richer on defense.
28.
– Justin Hunter, WR/Tennessee
Houston may lean towards a linebacker with this pick, but seeing as they've love to improve their receiving corps, Hunter is a great pick here. While he's not as highly touted as his buddy and fellow Vols wideout Cordarrelle Patterson is, Hunter is a big receiver with down field threat written all over him. If the Texans can get two Andrew Johnson's on the field at one time, defense's will have already lost their breath — and Houston still has Arian Foster as an option too. Hunter is a great option here for Houston.
29. New England Patriots – Matt Elam, S/Florida /
Elam is a physical, he's got attitude and he can hit hard. The Patriots are a physical defense, they've got attitude and they love to hit really hard. Elam is just too good of a fit to pass up if he's available. Tavon Austin could be an option to really open up the offense, but if he's not available here the Patriots will look to improve a secondary that could use some tinkering.
30. Green Bay Packers– Barrett Jones, C/Alabama /
The Packers picked up Jeff Saturday in the offseason, but it was Saturday that approached Mike McCarthy this season and painfully admitted that he just can't hack it like he used to anymore. As a result, Green Bay has been rolling with Evan Dietrich-Smith at center and it's been a wild ride. Green Bay's offensive line has allowed Aaron Rodgers to be sacked more than any quarterback in the NFL and anyone could be replaced. Jonathan Cooper is an option here, but If he continues to fall, Green Bay could trade up and get him in round two.
31.
–
Tyler Eifert – TE/Notre Dame
Notre Dame didn't get to the title game on a fluke and it wasn't all Manti Te'o. Eifert is a big, physical ex-receiver that converted to tight end who can flourish in the new era for tight ends. Tony Gonzalez won't be around forever, and might even retire as soon as this offseason. Eifert is a 6-foot-6 abominable snowman and Matt Ryan will finally get with the 21st Century when it comes to the new breed of tight end targets.
32.
– Jonathan Cooper, OG/North Carolina
The Broncos would love to get a massive target like Tyler Eifert in Denver for Peyton Manning, but settling for protecting Manning isn't a bad option. Denver needs some help up front and Cooper is widely regarded as the third or fourth best offensive lineman in the draft class. Manning's neck held up this season, but the Broncos would be foolish to not still consider Manning fragile. All it takes is one massive hit to take Manning out, and it'll be Cooper's job to make sure that never happens.
You can follow Josh Hill on Twitter and  you can also'Like' Fansided on Facebook. 
Follow @Fansided