David Akers Will Start at Kicker for 49ers on Saturday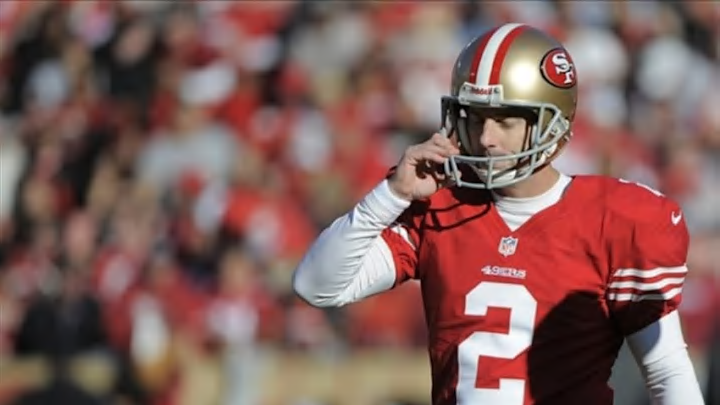 Mandatory Credit: Kyle Terada-USA TODAY Sports /
Mandatory Credit: Kyle Terada-USA TODAY Sports /
It was a really historic start to the 2012 season for San Francisco 49ers kicker David Akers, but it was a pretty rough finish. After hitting a historic 63-yard field goal in the first week of the season, Akers missed four of his last seven field goals to close out the regular season. It was because of this that the 49ers had a kicker try out after the season, eventually signing Billy Cundiff to compete for the starting job.
But it appears that Akers was indeed properly motivated, as Jim Harbaugh has named him the starting kicker for the Niners when they take on the Green Bay Packers in Saturday's NFC Divisional round game.
[RELATED: Ex-49ers Kicker Nedney Blasts Team for Holding Tryouts]
Chris Inman from the Bay Area News Group, tweeted that Harbaugh said Akers gives the 49ers the best chance to win against the Packers. He also notes that the recently signed Cundiff is not expected to suit up for the game.
Akers only hit 29 of his attempted 42 field goals this season, and many analysts made note of his lack of confidence down the stretch of the season. CSNBayArea.com analyst and former 49ers kicker Joe Nedney noted that he clearly saw in the way that Akers was kicking, that his head wasn't right. The 49ers now believe after seeing Akers kick that his confidence is indeed back.
But kicking for coaches in practice and lining up for a kick that can either extend or end the season of your team is two entirely different scenarios. Akers has already kicked with his job on the line, but now the fate of the team could be riding on his foot come Saturday.