NFL Mock Draft 2013: Pre-Free Agency Edition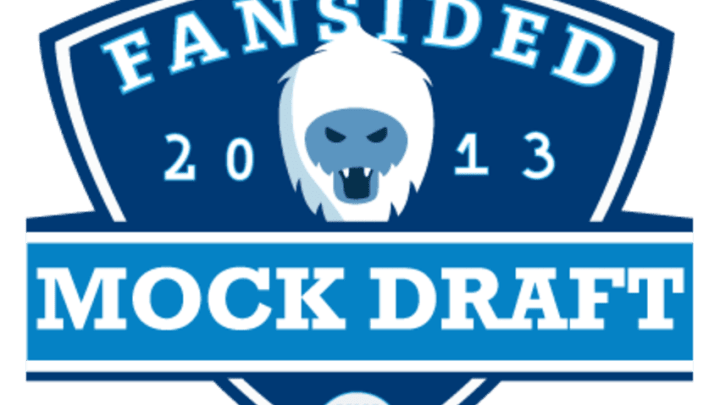 Each week Fansided.com will have a new mock draft to preview and showcase this upcoming April's draft. For more in depth analysis of each pick, be sure to visit the Fansided site of your favorite team and check back each Monday for a new and updated Mock Draft.
1.
– Luke Joeckel, Offensive Tackle, Texas A&M
With the release of right tackle Eric Winston, the Chiefs need to find someone who can step in and be an anchor on the outside opposite Branden Albert. It's also important to note that Albert has only been designated as the team's franchise player, so his long-term future with the team remains in question. Bringing in Joeckel would give the Chiefs one of the most talented players in this year's draft class.
2
. 
Sharrif Floyd is one of the quickest rising prospects in the 2013 draft class and has gained some momentum as a potential No. 1 pick. Unfortunately for Floyd, he is not a good fit in the Chiefs 3-4 defense. Fortunately for the Jaguars, they need a defensive tackle and help with the pass rush. They get both of those in Floyd.
3. Oakland Raiders – Geno Smith, Quarterback, West Virginia /
Terrelle Pryor is trying his best to step up and become the Raiders starting quarterback, but it would be hard for the team to pass up on a potential franchise signal-caller in Geno Smith. Were it not for Kansas City's trade for Alex Smith, Geno would be in the mix for the No. 1 pick. If Smith were to go to Oakland, Chiefs fans would be praying that he does not turn into a star and come back to haunt them for years to come.
4. Philadelphia Eagles – Dion Jordan, Defensive End, Oregon /
This is an interesting selection, but one that certainly makes a lot of sense. Jordan is one of the best pass rushers in this year's draft class and there is no one in the league more familiar with his skill set than new Eagles head coach and former Oregon head coach Chip Kelly. A Jordan and Kelly reunion would get the Eagles back on the right track.
5. Detroit Lions – Dee Milliner, Cornerback, Alabama /
Detroit's focus in free agency looks to be at the running back position, so they will need to focus on their defensive backfield in the draft. Along with an obvious need at cornerback, the Lions could be losing safety Louis Delmas. Texas' Kenny Vaccaro would be a great fit, but may be a little bit of a reach at pick five. Instead, the Lions can lock up the top cornerback in the draft and make sure they get the most value out of their top five selection.
6.  Cleveland Browns – Barkevious Mingo, Outside Linebacker, LSU /
Cleveland appears to be interested in every free agent on the market, but they will have to choose their battles. Ultimately, Cleveland will attract second-tier free agents which will leave them searching for young talent to boost their pass rush. Mingo is an athletic freak that has unlimited potential.
7. Arizona Cardinals – Eric Fisher, Offensive Tackle, Central Michigan /
Arizona could very well look in the direction of a player like Matt Barkley with this pick, but no matter the jquarterback, the team will not succeed if they do not boost the offensive line. Fisher is just a notch below Joeckel as a prospect and is considered by many to be in the mix for the first-overall pick. If Arizona could land Fisher at pick seven, it would be a gift.
Buffalo Bills
It is very possible that quarterback Ryan Fitzpatrick will be cut in the next 48 hours which will leave the team searching for a quarterback. While Barkley continues to be available, a more likely option is former Syracuse quarterback Ryan Nassib in the second-round who would be united with his former college coach Doug Marrone. With a young quarterback likely entering the mix, the team will need to add playmakers. Patterson would be a brilliant weapon in the Bills offense opposite Stevie Johnson. Selecting the former Tennessee product would set the future Bills quarterback up for success.
9. New York Jets –Jarvis Jones, Outside Linebacker, Georgia /
Jarvis Jones was surrounded by medical concerns, but he has finally received a clean bill of health which should be great news for teams selecting in the top ten. Jones is certainly one of the top ten talents in this year's draft class and he fits a serious position of need for the Jets.
10.  Tennessee Titans –  Jonathan Cooper, Guard, North Carolina /
Cooper has overtaken Alabama's Chance Warmack in my draft rankings thanks to his incredible athleticism and quick feet. With a speedster like Chris Johnson in the backfield, you need quick, athletick offensive linemen that will be able to get out in front of the runner and pave the way for the endzone.
11. San Diego Chargers  – Ezekiel Ansah, Outside Linebacker, BYU /
A lot of people have been mocking offensive tackles to the Chargers over the past few weeks, but there are more areas of need than the outside of their offensive line. Melvin Ingram and Jarrett Johnson are currently the starting outside linebackers on the Chargers depth chart. Luckily for the team, Ansah is available and would provide a massive boost to the pass rush along with a player that has incredible ability and the potential to blossom into one of the league's brightest stars.
12. Miami Dolphins – Desmond Trufant, Cornerback, Washington /
The Miami Dolphins are expected to sign a star wide receiver — most likely Mike Wallace — during the free agency period, so it would make sense that their attention would then turn to cornerback. With Vontae Davis now in Indianapolis and Sean Smith likely finding a new home in the coming weeks, the team needs a big time corner. Trufant is one of the best corners in this year's draft, despite not being a household name, and would give Miami a true No. 1.
13. Tampa Bay Buccaneers – Xavier Rhodes, Cornerback, Florida State /
Rhodes is a big, physical corner that perfectly fits in the Tampa Bay coverage scheme. With veteran Ronde Barber expected to return at safety, Rhodes would have some veteran leadership in the secondary unit that would teach him a lot during the initial year of his career and hopefully give him knowledge that he could use to grow as a professional and player as the years go by.
14.  Carolina Panthers – Star Lotulelei, Defensive Tackle, Utah /
Star Lotulelei is a top three talent, but a heart defect has caused him to slide down draft boards. This pick is a no-brainer. Carolina needs a defensive tackle to anchor their line and it gets no better than the Utah product.
15.  New Orleans Saints – Sheldon Richardson, Defensive Tackle, Missouri /
With Sedrick Ellis likely out the door, the Saints will need to find a replacement in the middle of their defensive line. Richardson has one of the quickest first steps in this year's draft class and will bring an added dynamic to the Saints front seven with a superb interior pass rush. An added bonus for Richardson: He won't have to trade out much of his college gear since Mizzou and New Orleans have a similar color scheme.