NFL Mock Draft 2013: Free Agency Edition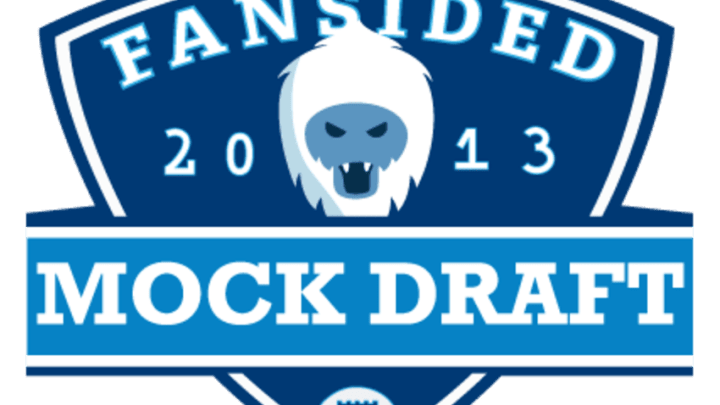 Each week Fansided.com will have a new mock draft to preview and showcase this upcoming April's draft. For more in depth analysis of each pick, be sure to visit the Fansided site of your favorite team and check back each Monday for a new and updated Mock Draft.
1.
– Luke Joeckel, OT/Texas A&M
This has now become the consensus pick when you consult draft experts. The Chiefs did nothing in free agency to boost their offensive line but they made plenty of moves to make the offense better. The next logical step is to make sure Alex Smith has time to throw and utilize his new toys, and Joeckel is that guy. Plus, the Chiefs are reportedly extremely high on the tackle after the Texas A&M Pro Day, so this is looking more and more like a lock.
2
. 
Here's a new one, back-to-back picks at the top of the draft getting devoted to offensive lineman. Not only is this possible, but it's a real statement on the direction of the league. Teams that win have talent that starts up front with protection, and the Jaguars need that bad. Eugene Monroe is in a contract year and the jaguars can go ahead and draft a skill position both later in the draft and next year when they're right back at the top of the draft. The only difference will be they'll have means of utilizing their new toys because Fisher will be protecting whoever's under center.
3. Oakland Raiders – Sharrif Floyd, DT/Florida /
This pick is also becoming a lock, even if Geno Smith it available. I really love Smith with the Raiders, but Oakland is better off testing Terrelle Pryor for a year and then drafting a quarterback next year if need be. What Oakland should focus on is improving on defense, as if they're not going to outscore opponents in 2013, they need to contain them and Floyd is an absolute monster who was once briefly in the running to be the No. 1 overall pick.
4. Philadelphia Eagles – Dee Milliner, CB/Alabama /
The Eagles would love it if Eric Fisher fell to them, but those days seem to be over for now. In the mean time, the Eagles need to look into beefing up a laughable defense from last season and that starts with erasing the Dream Team secondary from our minds. Milliner wasn't a standout at the combine, but he's still one of the best defensive players in the draft and in a division that has Tony Romo, Robert Griffin III and Eli Manning, you really need to have a cornerback to keep them in check — or intercept Tony Romo a lot.
5. Detroit Lions – Ezekiel Ansah, DE/BYU /
Detroit lost both of their defensive ends from 2012 as Kyle Vanden Bosch was cut and Cliff Avril took a deal with the Seattle Seahawks. Ansah is being compared to Aldon Smith and he fits right in with the young defensive line the Lions are piecing together. Offensive line is an option here too but Ansah is too good to pass up. The Lions picked up Jason Jones in free agency, which means they can plug Ansah right in and have two of the best young defensive ends in the game.
6.  Cleveland Browns – Dion Jordan, DE/Oregon /
The Browns were hoping to get Cliff Avril in free agency to fill a need at defensive end, but they'll likely be looking to the draft now after missing out on him. Dion Jordan is a name quickly climbing mock drafts and big boards and it's not for no good reason. He's got Jason Pierre-Paul potential as Jordan is fast, athletic and his stock is only going up.
7. Arizona Cardinals – Geno Smith, QB/West Virginia /
The Cardinals were mildly in the running for Alex Smith but their current quarterback situation complicated that. But drafting Geno Smith is starting to make a whole lot of sense and unless they trade back, Smith is going to be their man if Eric Fisher is off the board. It's still a real stretch to lock him into the top 10 but with plenty of time to fluff the hype, Smith will likely be off the board somewhere in the top 10 in April. Drew Stanton is not the man of the future, and he'll be backing up the very mobile Smith in no time.
Buffalo Bills
Buffalo needs a quarterback, and they're not going to get Geno Smith without trading up to get him. While Matt Barkley continues to be available, a more likely option is former Syracuse quarterback Ryan Nassib in the second-round who would be united with his former college coach Doug Marrone. With a young quarterback likely entering the mix, the team will need to add playmakers. Patterson would be a brilliant weapon in the Bills offense opposite Stevie Johnson. Johnson wants the Bills to sign Darrius Heyward-Bey, but he'll be much happier when Patterson comes to town.
9. New York Jets – Jarvis Jones, OLB/Georgia /
Jarvis Jones was falling in the draft due to questions about his health, but he claimed the problem wasn't that serious and doctors have apparently agreed. After clearing up the issues about his health, Jones is back to being a top prospect and that's good news for the Jets. New York needs a lot of things and one of those things is a top linebacker. Jones can step right in and be a much needed breath of fresh air for a defense that was consistently embarrassed in 2012.
10.  Tennessee Titans –  Jonathan Cooper, G/North Carolina /
Guards almost never go very high in the draft unless they're truly elite talents. Cooper has overtaken Chance Warmack as the top guard in the class, and is one of those truly elite talents that Tennessee would be crazy to pass on. The secondary needs help but if Jake Locker is going to lead this team, he needs to stay healthy and he needs to have an offensive line he can have confidence in. Cooper would become the cornerstone of the Titans defense and would not only help Locker but help out Chris Johnson as well.
11. San Diego Chargers  – Lane Johnson, OT/Oklahoma /
Thanks to some great Senior Bowl practices, Oklahoma's Lane Johnson is rising up draft boards at a pretty quick rate and due to some names dropping out he could go higher than expected. Jake Matthews and Taylor Lewan deciding to return to college means there's a lack of supply for the high demand of offensive tackles at the top of the NFL Draft. San Diego is going to want to protect Philip Rivers and that starts with improving the offensive line.
12. Miami Dolphins – Xavier Rhodes, CB/Florida State /
The miami Dolphins spent big money on upgrading their offense in free agency, which means the draft will focus on making sure the defense can keep opponents down. Miami needs a boost in the secondary and that's something Xavier Rhodes can give them, as he's a big corner who plays physical and can be a Richard Sherman type of player, minus the mouth.
13. Tampa Bay Buccaneers – Star Lotulelei, DT/Utah /
I really hate picking the same guy everyone else is picking, especially when it's a wild card team like the Buccaneers. But Lotulelei makes a lot of sense here, and he fills a giant hole for the Buccaneers. He's got concerns about his health, but as the sometimes ignorant Todd McShay points out, until we hear from more than one doctor that Lotulelei's heart isn't up to par, he's worth considering here. The Bucs need to fill the middle and the big man from Utah would be a steal for the Bucs here and could boast Pro Bowl potential when lined up next to Gerald McCoy, and vice versa.
14.  Carolina Panthers – Sheldon Richardson, DT/Missouri /
When it comes to Richardson, scouts are absolutely high on him and he's got a lot of evidence to back up all the hype. He's got a lighting fast first step and can penetrate backfields like some of the top defensive tackles in the NFL. He's fluctuating in value right now, but all signs are pointing to Richardson seeing his value take a jump as we get closer to the draft. The Panthers need to beef up their front line and Richardson will be something running backs don't want to deal with on Sunday's.
15.  New Orleans Saints – Barkevious Mingo, OLB/LSU /
The Saints are starting to realize that they're not getting any younger, but do have a golden opportunity to dip themselves into the fountain of youth otherwise known as the NFL Draft and help shore up an aging defense. Mingo is familiar with the bayou from his days with LSU and he's a versatile monster of a linebacker. He plays his heart out and is a sideline-to-sideline type of player. New Orleans still has the talent to win now, but the more they look to the future, the quicker the transition will be when guys start to retire and move on.