NFL Mock Draft 2013: Ryan Nassib is First QB Drafted; Geno Smith Falls out of Top 20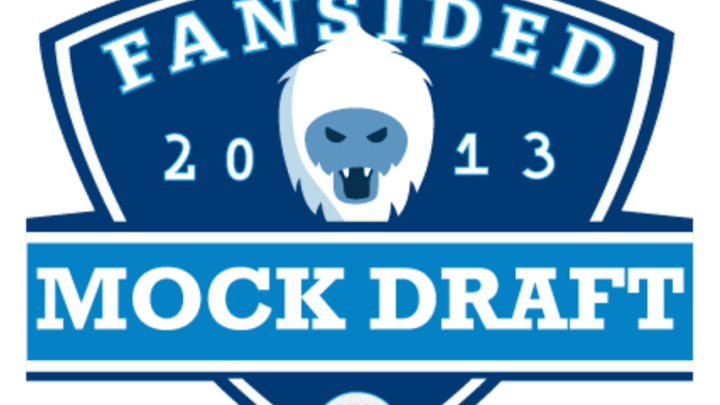 Each week Fansided.com will have a new mock draft to preview and showcase this upcoming April's draft. For more in depth analysis of each pick, be sure to visit the Fansided site of your favorite team and check back each Monday for a new and updated Mock Draft.
1.
– Luke Joeckel, Offensive Tackle, Texas A&M
There are reports that some of the Chiefs positional coaches would prefer Eric Fisher over Joeckel. Unfortunately, they aren't the ones making the pick and it is much more likely that Luke Joeckel will be the selection here.
2
. 
The growing belief around the league is that the Jaguars will select an offensive tackle. Taking Dion Jordan will be tempting, but the Jaguars can take Fisher and then hope Lane Johnson goes off the board early. If that happens, they will be able to dangle Fisher to tackle needy teams as trade bait.
3. Oakland Raiders – Sharrif Floyd, Defensive Tackle, Florida /
This is one of the consistent picks that has stayed throughout my mock draft. Floyd can be an elite three-technique and he fits exactly what the Raiders need.
4. Philadelphia Eagles – Dion Jordan, Outside Linebacker, Oregon /
While the Eagles are looking to add pass rushers, Chip Kelly can go back to his college roots and bring his old defensive end to town. Jordan will be a dynamic pass rusher for the Eagles and he brings the added ability to cover tight ends all over the field.
5. Detroit Lions – Lane Johnson, Offensive Tackle, Oklahoma /
This pick will come down to Lane Johnson or Ezekiel Ansah. If one of the top three tackles is on the board, that is likely the direction Detroit will go.
6.  Cleveland Browns – Ezekiel Ansah, Defensive End/Outside Linebacker, BYU /
The Browns would ideally like to trade out of this spot, but if they are stuck they will need to take a potential game changer on defense. The Browns reportedly love Barkevious Mingo and Dee Milliner, but if Ansah gets by Detroit they will have to look long and hard at the player with the most upside in this year's draft.
7. Arizona Cardinals – Chance Warmack, Guard, Alabama /
The Cardinals are much more comfortable with their current offensive tackles than the public realizes. If the top three tackles are gone, they will go with Warmack to sure up their interior line rather than reach for a player like DJ Fluker.
Buffalo Bills
There is growing belief that Nassib will be the first quarterback off the board. If Buffalo sits at eight and cannot find any trade partners, they will need to pull the trigger on the quarterback they like the most. With his familiarity with head coach Doug Marrone, Nassib has the inside edge. This pick will likely come down to a decision between Nassib and Matt Barkley.
9. New York Jets – Tavon Austin, Wide Receiver, West Virginia /
The Jets need playmakers on both sides of the ball and it doesn't get more dynamic than Austin. The team has two first round picks after the Revis trade, so they can afford to take an offensive player early.
10.  Tennessee Titans – Jonathan Cooper, Guard, North Carolina /
Tennessee has shown a dedication to improving in the trenches and Cooper will provide a brilliant one-two punch with Andy Levitre. This is a no-brainer selection for the Titans, who reportedly prefer Cooper over Warmack.
11. San Diego Chargers  – Star Lotulelei, Defensive Tackle, Utah /
Lotulelei is a top five talent and while it would be tempting to select Fluker, Lotulelei will be too hard to pass up on.
12.
Miami Dolphins
After losing Vontae Davis and Sean Smith, the Dolphins are in desperate need of cornerbacks. Milliner is the top rated corner in this year's draft, according to many analysts, so this would be a dream scenario.
13. New York Jets (from Tampa Bay Buccaneers) – Barkevious Mingo, Outside Linebacker, LSU /
Continuing with the theme of adding playmakers on both sides of the ball, the Jets get one of the most naturally talented pass rushers in the 2013 draft.
14.  Carolina Panthers – Sheldon Richardson, Defensive Tackle, Missouri /
Richardson has a relentless motor and has a lightning quick first step. For a defensive line that could use a boost, Richardson can step right in and elevate the level of play in every aspect.
15.  New Orleans Saints – Jarvis Jones, Linebacker, Georgia /
Were it not for medical concerns, Jones would be a top ten lock. Instead, he falls slightly to a team that could use a hard-nosed linebacker. Jones will be a brilliant fit in Rob Ryan's defense.