NBA Draft Trade Rumors: Cleveland Cavaliers Asking For Too Much For No. 1 Pick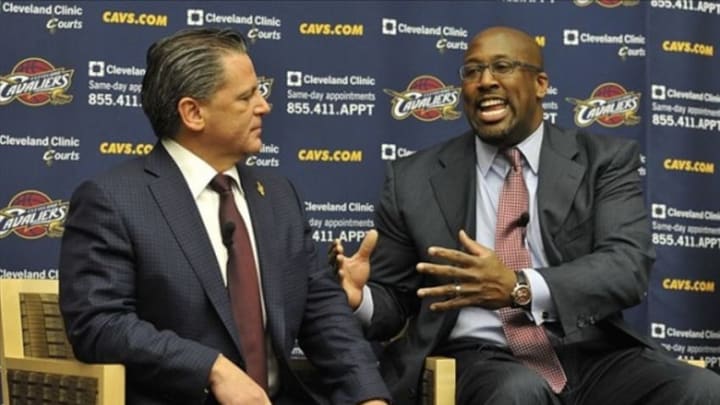 Apr 24, 2013; Independence, OH, USA; New Cleveland Cavaliers head coach Mike Brown (right) talks beside team owner Dan Gilbert during a press conference at Cleveland Clinic Courts. Mandatory Credit: David Richard-USA TODAY Sports /
Apr 24, 2013; Independence, OH, USA; New Cleveland Cavaliers head coach Mike Brown (right) talks beside team owner Dan Gilbert during a press conference at Cleveland Clinic Courts. Mandatory Credit: David Richard-USA TODAY Sports /
NBA Draft Trade Rumors — It has been widely reported that the Cleveland Cavaliers, owners of the first overall pick in the 2013 NBA Draft, have severely overvalued the top pick in all trade talks. What is it that the Cavs want in return? A lottery pick, a future first-round pick and a young prospect.
Needless to say, that is way too much to ask for a pick in a draft where there is no clear superstar. Basically, the Cavs would only be willing to deal with another lottery team who would swap picks and throw in another first-round pick and then a young prospect who they believe to be good enough. That's ridiculous.
Perhaps the closest a team can come to these terms would be the Minnesota Timberwolves. The Wolves are apparently interested in moving up in the draft and would be willing to offer the ninth pick in this year's draft, the 26th pick and also Derrick Williams. And that would obviously not be enough for the Cavs to give up the pick.
If these rumors are true, then it's very likely the Cavs will hold onto their pick.