Kidd's First Practice As Head Coach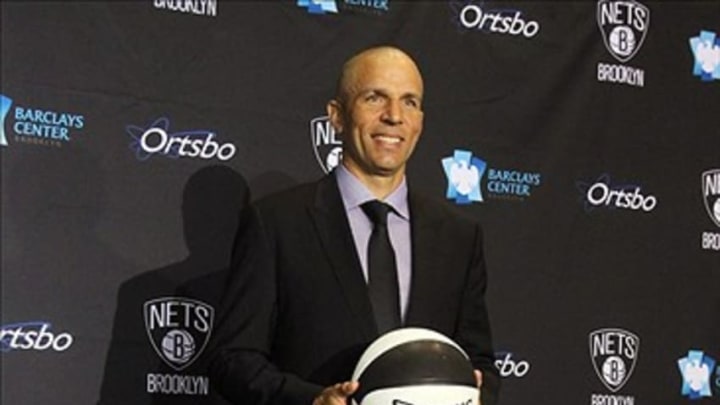 Jun 13, 2013; Brooklyn, NY, USA; Brooklyn Nets head coach Jason Kidd poses for photos during a press conference at Barclays Center. Mandatory Credit: Brad Penner-USA TODAY Sports /
Jason Kidd has recently ended his 19-year basketball career, but is moving on to a new coaching career. Just 10 days after retiring from the game of basketball, Jason Kidd took the position of Head Coach of the Brooklyn Nets. And today he got to hold his first practice as a coach.
On being a new coach, Kidd ha this to say,
"I guess holding the whistle might be the weirdest thing. Normally, as a player, you're out there competing trying to win and get better, so that's probably the weirdest part is just holding the whistle all practice."
Coach Kidd will be coaching his first game on Sunday, as the Net's summer league team takes on Detroit. Kidd also got Lawrence Frank on his coaching staff, a guy who used to be one of Kidd's coaches when he was a player. And Kidd loves having him around to ask for help whenever he needs it.
"It's been great. He's a guy I can lean on, ask him any question, he pretty much has all the answers. I'm happy he's on board. He's been a head coach in this league, he's been an assistant so he understands what it takes to be successful. I'm very lucky to have a special guy like that."
It will be interesting to see how Kidd handles being the one calling the shots, from the sidelines of course. All eyes will be on him as we start the NBA's Summer League. In just a week, he'll to put together the team with even more pieces, with Kevin Garnett and Paul Pierce officially becoming members of the Nets on July 10.