March Madness 2014: ACC Tournament Preview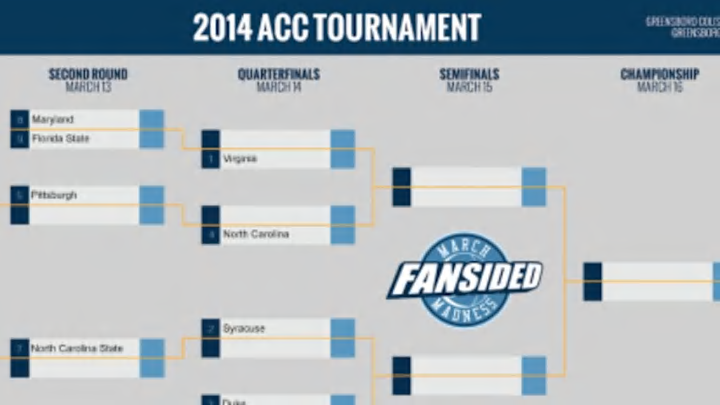 Mar 1, 2014; Charlottesville, VA, USA; Virginia Cavaliers forward Caid Kirven (24) celebrates with the net after the Cavaliers game against the Syracuse Orange at John Paul Jones Arena. The Cavaliers won 75-56 and clinched the ACC regular season title. Mandatory Credit: Geoff Burke-USA TODAY Sports /
March Madness is upon us, and one of the top conference tournaments in the nation is set to take place from Wednesday through Sunday in North Carolina. The Atlantic Coast Conference and its longstanding basketball tradition always represents one of the "must-see" spectacles during championship week, and this season is no different with a lights-out field of teams in the ACC Tournament.
This season's "banner" performance came from the regular season champion Virginia Cavaliers, and as a result, Tony Bennett's team is in great position for a deep run. The Cavs play at one of the slowest paces in America, but that is in line with the entire ACC (which played at the slowest collective pace of any league) this season, and they've done it better than anyone with a sparkling 16-2 mark.
However, many people believe that Virginia is not the favorite to win the conference title, simply because they will be pushed by three bigger name programs with high-level talent in Syracuse, Duke, and North Carolina. The Orange were undefeated and ranked #1 in the country for a long period of time earlier in the year, but they've hit the skids since their offense gave out, and it's been uphill from there including a loss to the aforementioned Cavaliers in recent days.
In the "home" state of North Carolina, both Duke and UNC are playing at a high level, and the two teams played an absolute barn-burner to end the season in Durham. Duke freshman Jabari Parker was "snubbed" with regard to the ACC Player of the Year race (the award went to NC State's TJ Warren), and that could provide a bit of motivation for the future top-3 NBA Draft pick.
From an off-the-radar perspective, the Pittsburgh Panthers provide an intriguing story to watch. Pitt, as they always do, started out hot on the back of a woefully easy non-conference schedule, but they've paid for that slate and with a 11-7 record in conference play, they land squarely on the bubble as the ACC tournament opens. Fortunately for the Panthers, they'll face off with either Wake Forest or Notre Dame in their opening game, but if they fall, it could be lights out for Jamie Dixon's team.
Here's a look at the particulars for the event itself:
Dates: Mar. 12-16
Where: Greensboro, NC
Arena: Greensboro Coliseum
TV Info: ESPN Family of Networks
Live Stream: WatchESPN app
2014 Regular Season Champion: Virginia
As if that wasn't enough information for you, here's a look at the full bracket in picture form:
ACC /
With this being the final season for the ACC in its current form (Maryland is headed to the Big 10 next season, among other changes), it should be a wildly intriguing quartet of days. There is a clear divide between the "big four" and everyone else in the league this season, but there is still a good deal of talent in the lower half (Georgia Tech is playing quite well right now, for instance), and that makes for a more well-rounded field.
Greensboro provides a spectacular venue with regard to college hoops die-hards, and the play on the floor should live up to that top billing. Stay tuned!