NFL Trade Rumors: Kansas City Chiefs not interested in acquiring DeSean Jackson through trade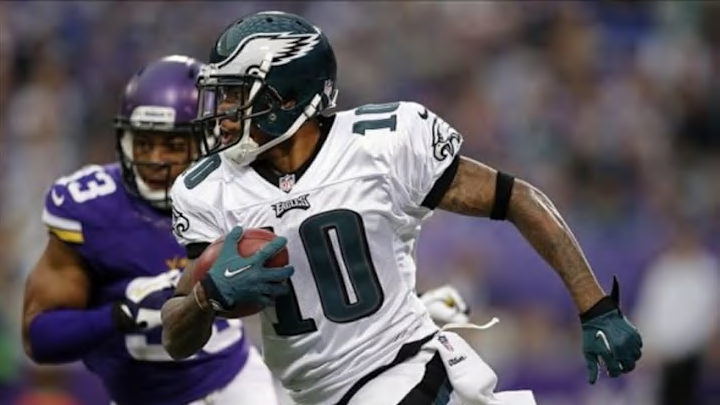 Dec 15, 2013; Minneapolis, MN, USA; Philadelphia Eagles wide receiver DeSean Jackson (10) returns a punt against the Minnesota Vikings in the third quarter at Mall of America Field at H.H.H. Metrodome. The Vikings win 48-30. Mandatory Credit: Bruce Kluckhohn-USA TODAY Sports /
Dec 15, 2013; Minneapolis, MN, USA; Philadelphia Eagles wide receiver DeSean Jackson (10) returns a punt against the Minnesota Vikings in the third quarter at Mall of America Field at H.H.H. Metrodome. The Vikings win 48-30. Mandatory Credit: Bruce Kluckhohn-USA TODAY Sports /
A week ago there were rumblings that we could hear some chatter about a DeSean Jackson trade, but those rumblings have morphed into Wall Street style shouting as it eels to not be a question of if Jackson is traded but where and how soon.
Everyone has been linked to Jackson in some way, with the Jets, Raiders and Seahawks being heavily discussed on Saturday. One team that sort of got in at the very early beginnings of the trade rumors was the Kansas City Chiefs, but they're as uninterested in trading for Jackson now as they were then.
"A trade with the Chiefs, however, seems unlikely. There's the matter of compensation, first off … But more importantly, the Chiefs don't have a ton of cap space ― only $4.8 million, according to NFL Players Association records ― and Jackson has a 2014 cap number of $12.5 million."
The Chiefs interest in Jackson would change if he were to be released, but that might not happen given the interest from other teams. The Andy Reid connection has helped keep the Chiefs in the conversation, but it's a conversations they want little part of.