Indiana Pacers destroy Miami Heat defense with insane ball movement (GIF)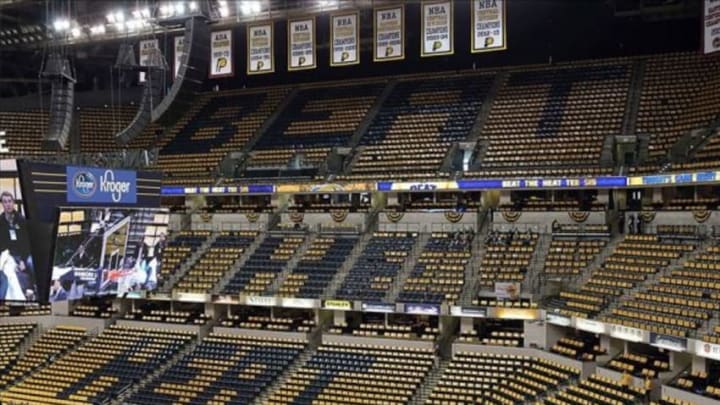 Mar 26, 2014; Indianapolis, IN, USA; A general view of a message in the seats spelling out "beat the heat" before the game between the Indiana Pacers and Miami Heat at Bankers Life Fieldhouse. Mandatory Credit: Pat Lovell-USA TODAY Sports /
Mar 26, 2014; Indianapolis, IN, USA; A general view of a message in the seats spelling out "beat the heat" before the game between the Indiana Pacers and Miami Heat at Bankers Life Fieldhouse. Mandatory Credit: Pat Lovell-USA TODAY Sports /
The Indiana Pacers got bounced hard by the Miami Heat in the Eastern Conference Finals last season and they've ben out for revenge ever since then. While they haven't directly stated that every single move they've made post the Conference Finals has been about the Heat, everyone else has been able to read between the lines.
Roster moves only get you so far against the Heat, as you need to back it up wit stellar play on the court, and that's what the Pacers are doing on Wednesday night as they displayed their elite ball movement skills on one particularly sick play.
Credit: Zombie Prophet /
It's hard to shred the Heat defense, but when you not only steal the ball and stop a fast break dead cold and follow it up by making the Heat stand around sucking their thumbs, that's impressive offense. The Pacers have a ways to go before they're in the Conference Finals again but so far their confidence is through the roof.