Joe Johnson: Pistons made an offer for the SG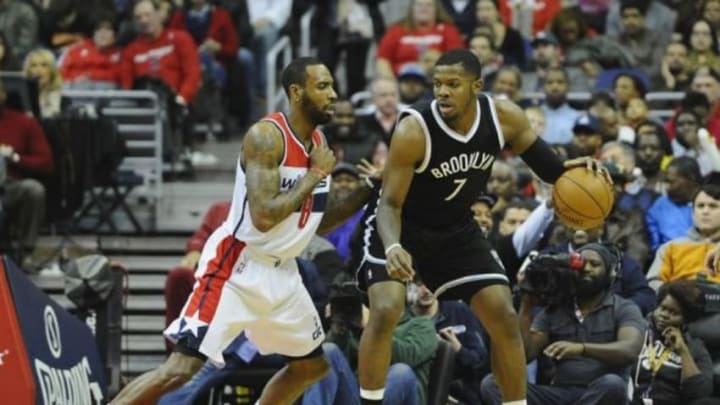 Brad Mills-USA TODAY Sports /
The Detroit Pistons have reportedly offered a trade to the Brooklyn Nets for Joe Johnson.
---
Since trading away Josh Smith in late December, the Detroit Pistons have been a much better basketball team. In the Eastern Conference, with the talent on their roster, the Pistons could very well make a run and make the playoffs. In hopes of an attempt to make that eight seed in the Eastern Conference, the Pistons have been active in trade talks as the NBA Trade Deadlines nears in less than 24 hours.
More from Brooklyn Nets
According to Stu Jackson on Twitter, who is the former Executive Vice President of the NBA, sources tell him that the Pistons offered a deal to the Brooklyn Nets in hopes of bringing in the seven-time All-Star Joe Johnson. What that deal entails is the Pistons trading away Brandon Jennings, Jonas Jerebko, Caron Butler, and multiple draft picks. At first glance, the trade doesn't look like much in return for the Nets, but the fact of the matter is that the Nets would dump a ton of salary cap space with the trade. Jerebko's deal ends after this season and Butler's deal ends after the 2016 season. On the other hand, Jennings is a nice building block. Despite that, the Nets have yet to make a decision on the offered trade.
It's not like today was the only day the Pistons have called up the Nets. Yesterday, it was reported that the Pistons inquired about the availability of Johnson and given that the Pistons have offered a day after the inquiry, by connecting the dots, it seems that the Pistons are extremely interested in Johnson and they will stop at nothing to bring him over to The Motor City, as some people call it.
By bringing in a shooting guard like Johnson, the Pistons will have the ability to bring in a player that can replace the likes of Brandon Knight, who tore his achilles just a few months ago. Detroit has a nice group of players in Jennings, Greg Monroe, and Andre Drummond. However, if they can bring in a clutch player like Johnson, trading away a talented guy like Jennings is by all means a good decision.
More from FanSided