Mike Rice ejected from son's game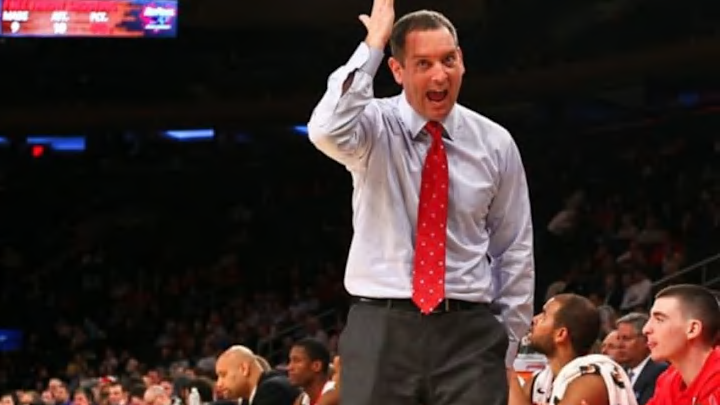 Debby Wong-USA TODAY Sports /
Mike Rice is back at it with his anger management issues.
Less than 10 seasons ago, Mike Rice seemed to be a coach that was heading for big things. He took over a Robert Morris program and brought them immediate success. During his span there, Rice had a record of 73-31, including two NCAA Tournament appearances. Before the 2010-2011 season, the Rutgers Scarlet Knights made Rice their head coach in hopes that he would revive a dying program who were in the midst of perhaps the toughest conference in all of college basketball in the Big East.
More from Mens Basketball
After two seasons at Rutgers where he posted a record of 29-34, Rice was in the midst of his third and likely his last season if he failed to make any improvements with the Scarlet Knights. In December 2012, Rice was suspended three games for abusive behavior towards his players. In April 2013, Athletic Director Tim Pernetti had video evidence of Rice aggressively throwing basketballs at his players. Also in the video, Rice was seen pushing, cursing, and even using homophobic slurs at players. Over millions of people watched the video and even New Jersey's Governor, Chris Christie, spoke out against Rice and the video. A day after the video was released, Rice was fired and Pernetti resigned just days later.
Obviously, there is no place for this in sports. Coaches aren't there to put down players, whether it's at high school level, collegiate level, or even the professional level. It's no surprise at all to find out that Rice hasn't been around a team since then.
Despite that, just because he's not coaching a team doesn't mean he's not back to his old antics. According to NJ.com, Rice was ejected from his son's high school basketball game. While it may have been a bad call, Rice and another parent were identified as the main perpetrators and they were both eventually ejected from the game. Rice and the other parent were removed from the game by a part-time police officer.
Even after Rice was fired, he took anger management classes in hopes that he would improve in that department. Despite that, the classes clearly did not work out. Luckily enough for Rice, he attends every one of his son's game and I'm sure his son hopes his dad doesn't have another one of these outbreaks.
More from FanSided