Edmonton Oilers trade Jeff Petry to Montreal Canadiens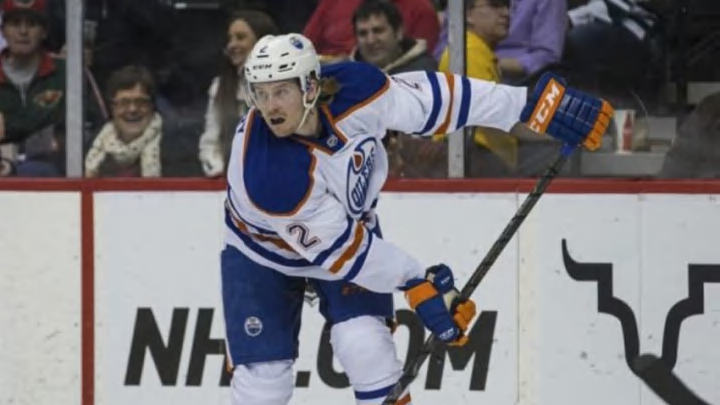 Feb 24, 2015; Saint Paul, MN, USA; Edmonton Oilers defenseman Jeff Petry (2) looks to pass during the second period against the Minnesota Wild at Xcel Energy Center. Mandatory Credit: Brace Hemmelgarn-USA TODAY Sports /
The Edmonton Oilers have traded defenseman Jeff Petry to the Montreal Canadiens for a pair of draft picks.
---
The Edmonton Oilers are doing their part in the NHL's Tankapalooza, which has reached a fever pitch with three teams sitting within four points of each other at the bottom of the standings. With two sure-fire top prospects waiting at the top of the 2015 draft and with Edmonton one of those three teams, it was inevitable that they'd move reliable defenseman Jeff Petry, who is set to become a free agent in July.
More from NHL
TSN reports that "The Edmonton Oilers have traded defenceman Jeff Petry to the Montreal Canadiens in exchange for a second- and conditional fifth-round pick in the 2015 NHL Draft."
The haul seems fairly mild given that the Philadelphia Flyers just pulled a first and third round pick for Braydon Coburn hours ago, but Coburn still has term on his contract and has a more proven track record as a solid contributor, which warranted the first-round pick.
Still, Oilers fans have to be a little disappointed that a guy many pegged as a trade target very early in this season's incarnation of the traveling circus that is the Edmonton Oilers. With the team once again plummeting to the basement of the Western Conference, Petry emerged as likely trade bait. It's easy to surmise that GM Craig MacTavish had plenty of conversations about Petry with other GMs to this point and had the time to drum up a price.
It appears that price couldn't exceed a second and a fifth though, which should still prove helpful if the Oilers can hit on picks in those rounds — something the team historically hasn't done well.
It is that lack of depth and defensive cohesion that's marred the Oilers for years now. The team has been the second-worst club in hockey all year, but relying on top picks hasn't served Edmonton well to date. Grabbing a few more picks in a deep draft can address the biggest weaknesses on this team: defense and depth throughout the roster.
The Canadiens meanwhile gain a defenseman in what has become an arms race in the Eastern Conference for every available veteran blue liner. The fact that they got an affordable, reliable defenseman in Jeff Petry without giving up a first-round pick is a coup for a balanced squad that already figures to challenge for a deep playoff run this spring.
More from FanSided
[subscriber]