NBA Rumors: Spurs will be first team to offer Marc Gasol a contract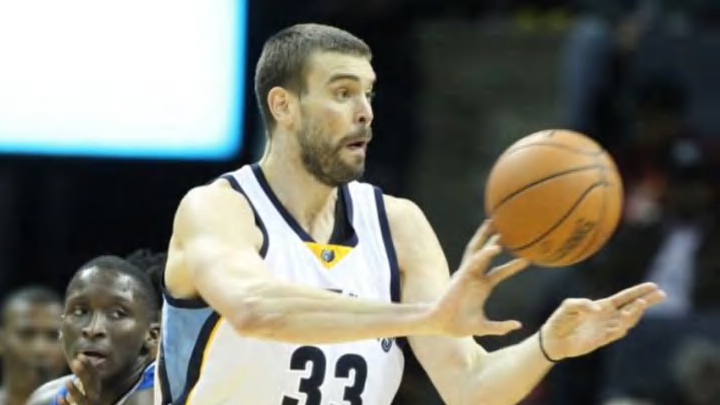 Jan 26, 2015; Memphis, TN, USA; Memphis Grizzlies center Marc Gasol (33) passes the ball as Orlando Magic guard Victor Oladipo (5) defends during the second half at FedExForum. Mandatory Credit: Nelson Chenault-USA TODAY Sports /
The San Antonio Spurs have built a dynasty over the years, but it's come time to recharge their roster and that means finding free agents this summer — like Marc Gasol. 
---
The San Antonio Spurs are title contenders again in 2014-15 but they're going to need to make some changes that are uncharacteristic of the franchise if they want to remain on top. The Spurs have long built through the draft and mainly stuck with middle-of-the-road free agent signings to complement their core of Tim Duncan, Manu Ginobili and Tony Parker.
More from NBA
But that could all be changing as the Spurs will need to look at free agents this offseason to keep replenishing their roster and not taking a step back to rebuild.
According to Steve Kyler from Basketball Insiders, the San Antonio Spurs will be the first team at the doorstep of Marc Gasol when free agency opens on July 1, 2015.
"The Spurs have a target list and it includes many of the same names other teams like – Gasol being the biggest of the bunch.The Spurs' plan to be at Gasol's doorstep at 12:01 on July 1, with the offer to be part of the future of the Spurs."
This isn't surprising, as there has been interested in Marc Gasol in the past from the Spurs and they even had interest in his older brother Pau Gasol before he ultimately signed with the Chicago Bulls this past summer.
Marc Gasol leaving Memphis seems to be unlikely though, which means the Spurs will have to look at someone like Greg Monroe to fill their need for frontcourt defense. It's not that the Spurs need things this offseason, but in order to not regress at all, they need to start spending some money.
That's where looking at players like Gasol or Monroe come into play and it's something that they team needs to consider if they want to stay on top in the West.
[recetnposts]