Knicks fans get bored and cheer for Tom Hanks (video)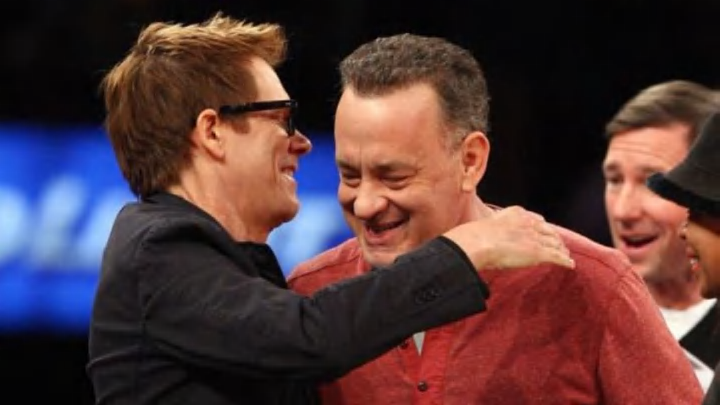 Mar 3, 2015; New York, NY, USA; Film actor Tom Hanks (right) hugs actor Kevin Bacon during the first quarter between the New York Knicks and the Sacramento Kings at Madison Square Garden. Mandatory Credit: Brad Penner-USA TODAY Sports /
The Knicks fans needed a little something to cheer for and decided to put their energy toward Tom Hanks. 
---
Thee New York Knicks fans don't have much to cheer for this season. Their star player decided to got to the All-Star game and then call it quits for the rest of the year. The team is terrible and will be looking to get a pick in the lottery. There is nothing for the fans to cheer for.
On Tuesday, the Knicks were getting blown out by the Sacramento Kings and the fans were hungry for a little something to cheer for. Instead of cheering for the "de-fense" or for any of the players on the floor, the fans decided to send their love to actor Tom Hanks.
Check out the crowd noise here:
https://vine.co/v/O0HOQ3KO7JL
TOM HANKS! TOM HANKS! TOM HANKS! 
It is pretty impressive that all the New York Knicks fans can work together to make something like that happen. Too bad the team is unable to have the same type of teamwork on the court.
Tom Hanks seems like he enjoyed the little cheer of his name.  
More from FanSided