Report: Randall Cobb agrees to four-year deal with Packers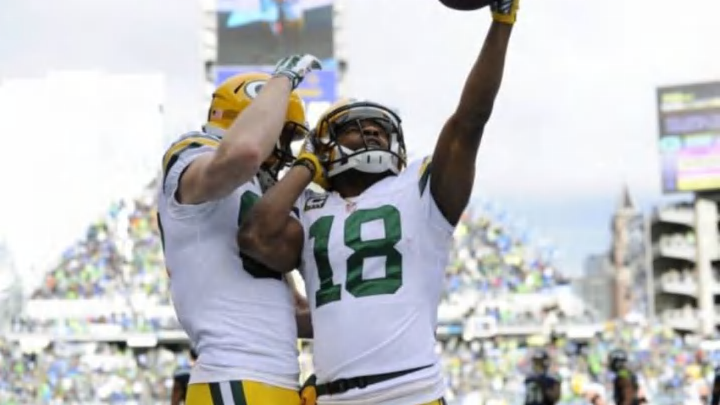 Jan 18, 2015; Seattle, WA, USA; Green Bay Packers wide receiver Randall Cobb (18) celebrates his first quarter touchdown catch with Jody Nelson against the Seattle Seahawks in the NFC Championship Game at CenturyLink Field. Mandatory Credit: Steven Bisig-USA TODAY Sports /
It looks as if Randall Cobb will not be going anywhere, as he has reportedly agreed to a four-year deal to return to the Green Bay Packers
---
As the NFL free agency period rapidly approaches, one of the hottest names in regards to the wide receiver position has been Randall Cobb. With such teams as the Oakland Raiders and Houston Texans reportedly clamoring for his services, it seemed to some that it might be a lock he would not be returning to the Green Bay Packers.
Well, not so fast.
It appears that Randall Cobb isn't going anywhere According to a report from Adam Schefter late Saturday night, Cobb and the Packers have agreed on a new four-year deal worth $40 million in some new dough for the speedster.

This might come as a surprise to some, as the general belief is that there would be a higher bidder outside of the Packers that could land his services. In particular, when news broke this week that Andre Johnson would not be returning to the Texans, Houston seemed like a pretty likely destination where he could be that No. 1 target replacement, or as close to it as possible.
Instead, Cobb will be staying with the Packers where he will continue being one of the best wide receiver/special teams threats in the entire league.
Cobb was drafted out of Kentucky in the second round of the 2011 draft by the Packers and he has steadily improved since, aside from the setback that was 2013. Last season as the Packers made a run to the NFC Championship Game, Cobb finished with 91 catches for 1,287 yards and 12 touchdowns.
More from FanSided