Cowboys want DeMarco Murray at around $5M per year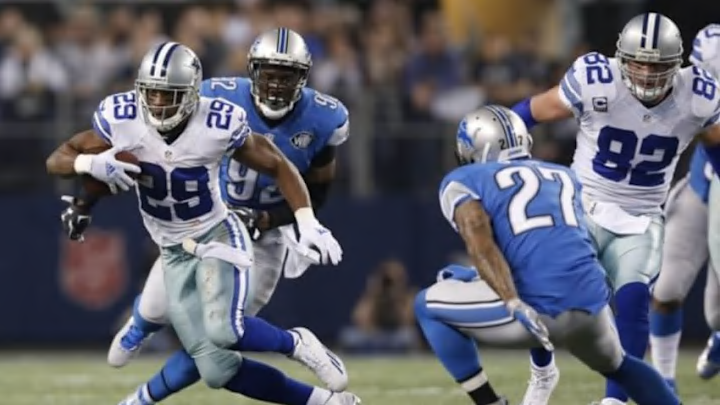 Jan 4, 2015; Arlington, TX, USA; Dallas Cowboys running back DeMarco Murray (29) carries the ball as he is chased by Detroit Lions defensive end Devin Taylor (92) and Glover Quin (27) during the third quarter in the NFC Wild Card Playoff Game at AT&T Stadium. Mandatory Credit: Matthew Emmons-USA TODAY Sports /
Dallas is reportedly ready to offer star running back DeMarco Murray $5 million per year to remain with the team
---
Running back is no longer the highly-sought after position it once was. So when it comes to DeMarco Murray, the question becomes, not how good he is, but how much is an elite running back worth in today's NFL?
The Dallas Cowboys seem to have found their answer. The Cowboys want Murray back, provided he's willing to sign for $5 million per season, according to this tweet from Yahoo's Rand Getlin:
This news comes on the heels of an earlier report that Murray was flying to Philadelphia Thursday with intention to sign.
More from NFL
It's unknown how much the Eagles are offering Murray. Murray is said to be interested in Chip Kelly's offense and in reuniting with his college quarterback, Sam Bradford. Yet if the offers are similar, he might elect to remain with the Cowboys. As usual in free agency, it all comes down to money.
Adam Schefter has also reported that Murray will consider a final offer from Dallas before making his decision between the Cowboys and Eagles.
Murray is one of the most interesting cases in free agency this year. Ten years ago, Murray would have been one of the two or three most sought after free agents in this class. Think LaDanian Tomlinson hitting the market in 2005; he would have gotten crazy money. But in the intervening years, it's become more and more apparent that running back success is dependent largely on the offensive line, and that the line between a good running back and an average one has become much blurrier. Teams simply aren't willing to shell out big money when they can find a 2014 Justin Forsett-type for $1 million a year.
Murray is no ordinary talent; he may well be the best running back in the NFL. That's what makes his situation so interesting; he's the best at what should be a very important position, yet he'll be lucky to get even half of what Byron Maxwell, a good but not great cornerback got from the Eagles.
The Cowboys have found that at $5 million, the price is right for Murray. "Who wants to be a (five) millionaire?" they're asking him. Or will Murray spin the wheel of fortune? Deal or no–OK, I'll stop now.
More from FanSided