North Carolina Central basketball's press release is so cocky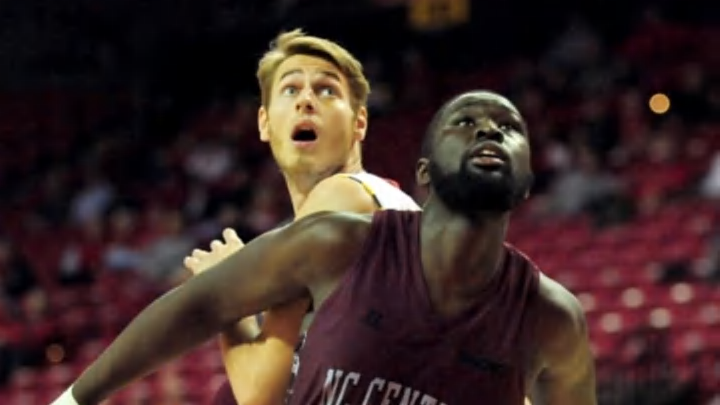 Dec 10, 2014; College Park, MD, USA; North Carolina Central Eagles forward Karamo Jawara (right) fights for a loose ball with Maryland Terrapins forward Jake Layman (left) in the first half at Xfinity Center. Mandatory Credit: Evan Habeeb-USA TODAY Sports /
North Carolina Central's PR team lays down the smack in postgame release
The North Carolina Central Eagles basketball team put a beatdown on Coppin State Wednesday, winning 91-43 and continuing their dominant undefeated season in conference play.
NCCU did not pull any punches in their press release about the game, which was titled "NCCU rolls Coppin State for second-largest win in MEAC tournament history."
This is how the release starts out:
"By now, North Carolina Central is way past the point of having to make any sort of statement.So let's call Wednesday's 91-43 annihilation of Coppin State in the Mid-Eastern Athletic Conference tournament quarterfinal a simple reaffirmation of the formidable task the rest of the league – especially those who made a mild threat to end the Eagles' unbeaten streak during the regular season – has of dethroning the defending conference champions."
More from Mens Basketball
That sound you hear is North Carolina Central's PR team LAYING DOWN THE SMACK.
The release was written by Dan Ryan, an "honorary NCCU staff member" (whatever that means). It sounds more like it was written by Kevin Garnett.
Seriously, I don't think I've ever seen a PR statement call out other teams like that. Those teams who made a "mild threat to end the Eagles' unbeaten streak" can't be too happy that they've been called out by a PR staffer.
Cocky statements like this can backfire (remember Matt "We Want the Ball And We're Going to Score" Hasselbeck?), so hopefully North Carolina Central's actual basketball team has the game to back up this smack talk.
They would seem to be OK in that department; the Eagles are unbeaten in conference play, comfortable in first place with a four-game lead over second-place Norfolk State. They're prohibitive favorites in the MEAC tournament, and they played like it against woeful Coppin State.
The school's PR department has almost become more interesting than the 25-6 basketball team itself. I can't wait for the next press release after a win. I imagine it will simply read, in all caps, "WE ARE UNSTOPPABLE, GET OUT OF OUR WAY YOU CLOWNS."
More from FanSided