Georgia State head coach falls out of his chair after game-winning shot (Video)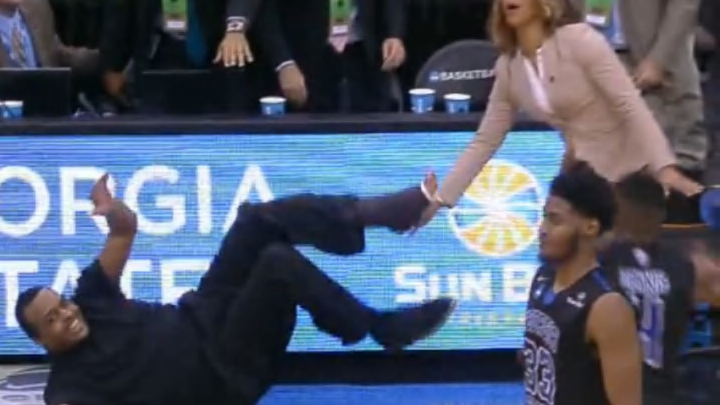 Georgia State was the second team to pull off an upset on the first weekend of the NCAA Tournament, and head coach Ron Hunter literally fell out of his chair as a result. 
---
Ron Hunter isn't just the head coach of Georgia State, he's a March Madness icon in the making. He's the head coach of a potential cinderella team and he's doing so on one leg in a family affair. Hunter's son R.J. Hunter, is the star point guard for the Panthers and he hit the game-winning shot to knock off Baylor in the first weekend of the tournament.
More from March Madness
R.J. Hunter drilled a deep three-pointer with just seconds left on the clock, and it was such a huge shot that his one-legged father fell out of his chair on the side of the court.
The elder Hunter is in a cast after tearing his Achilles earlier this week celebrating the Panthers conference tournament win, but this celebration topped that by a mile. It's the payoff and the punchline to the original injury as Hunter couldn't help but fall out of his chair after the game-winning shot was hit.
This is why March Madness is the best time of year, because we get moments like this where a head coach is literally so floored that he fell out of his chair.
March. Madness.
More from FanSided