UCLA mascot comes flying out of nowhere for photobomb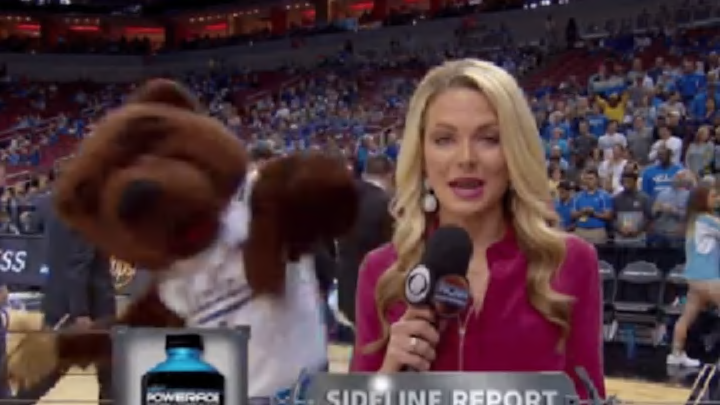 The UCLA mascot came racing into the camera view during the Bruins' matchup with UAB in the round of 32.
---
The UCLA vs. UAB game saw fast paced play with extremely high intensity.
The mascot for the Bruins decided to match this energy as he photobombed a reporter and came zooming onto camera out of nowhere.
The UCLA mascot, referred to as "Joe Bruin", will have plenty to cheer about as the Bruins will be advancing to the Sweet 16 for their second consecutive year. While some thought that UCLA should not have been a tournament team to begin with, they are proving that they belong.
Next up for the Bruins will be the winner of the Iowa vs. Gonzaga game.
Both teams are coming off of a blowout win in the round of 32, so the Bruins will most likely have their hands full no matter who the opponent may be. Joe Bruin might have to get his No. 11 UCLA squad a little extra hyped up during next week's game.
Be sure to stay tuned to Fansided.com throughout the duration of the 2015 NCAA Tournament for the latest news, highlights results and information from March Madness.
More from FanSided