Kevin Love: I plan on being a Cavalier next year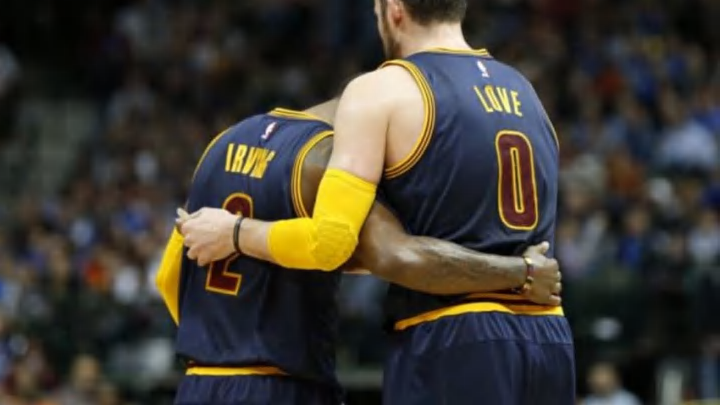 Mar 10, 2015; Dallas, TX, USA; Cleveland Cavaliers guard Kyrie Irving (2) hugs forward Kevin Love (0) during the game against the Dallas Mavericks at American Airlines Center. The Cavs beat the Mavs 127-94. Mandatory Credit: Matthew Emmons-USA TODAY Sports /
The former All-Star forward has struggled in his first season on the Cleveland Cavaliers, but the team has emerged as a championship front runner.
---
One of the most enjoyable activities of the 2014-15 NBA season has been over-analyzing everything Cleveland Kevin Love says. Whether or not it is Love is fitting in or "fitting out" has been one of the dumber melodramas surrounding the Cavaliers even as they soar towards a high Eastern Conference seeding.
Well, NBA fans may be able to enjoy the melodrama for one more season, from 9.23 The Fan's Daryl Ruiter.
More from Cleveland Cavaliers
Kevin Love came to the Cavaliers to create the new holy trinity of the NBA with LeBron James and Kyrie Irving, and while it took a while for the squad to realize their potential (and realize that they don't need Dion Waiters), the Cavaliers have emerged as the class of the Eastern Conference along with the Atlanta Hawks. They rest at 46-26, second best in the Eastern Conference.
However, while James has reprised his role as the facilitating ringleader and Irving has emerged as a dangerous, high-ceiling scorer, Love thus far has struggled to keep pace. As the distant third option, he has seen his scoring decrease and his efficiency turn downward. Love has endured the media scrutiny in Cleveland, in large part directed at his status as a locker room pariah.
As such, there have been rumors of Love leaving for greener pastures in the offseason. One of the most popular destinations for Love has been in Los Angeles with the Lakers, but he has also been tied to the Boston Celtics.
The power forward will apparently look past those rumors, and Cavs fans could be in for another year of passive aggressive quotes and blustering hot takes.
There is still room to misinterpret Kevin Love's quote and juice up some fake drama.
"I plan on being a Cavalier?" Why are you just "planning" on being a Cavalier and not "committed" to returning to the Cavaliers? Maybe you should be thinking about winning a championship for once in your life rather than talking about your next big paycheck.
Stop fitting out and JUST FIT IN KEVIN.
More from FanSided