Report: Mississippi State to hire Ben Howland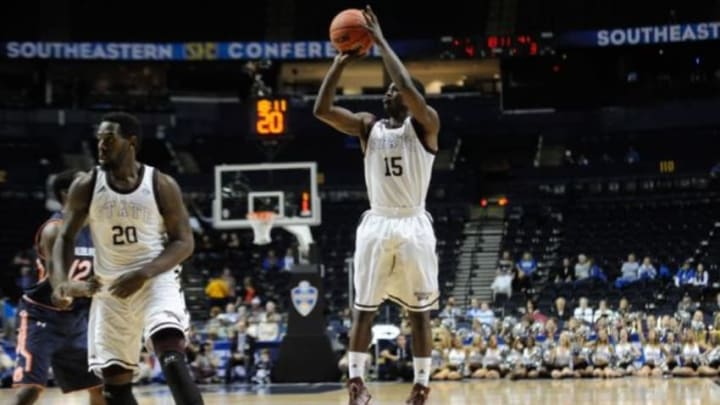 Mar 11, 2015; Nashville, TN, USA; Mississippi State Bulldogs guard I.J. Ready (15) shoots the ball over Auburn Tigers guard K.C. Ross-Miller (12) during the first half of the first round of the SEC Tournament at Bridgestone Arena. Mandatory Credit: Joshua Lindsey-USA TODAY Sports /
Mississippi State will reportedly hire former UCLA coach Ben Howland to replace Rick Ray
---
Mississippi State has found their next head coach. Ben Howland, the former UCLA and Pittsburgh head coach, will be named Mississippi State's coach, according to an ESPN report. He will replace the fired Rick Ray, who lasted just three years in Starkville.
The report comes via Twitter, from ESPN's Jeff Goodman:
Howland was UCLA's head coach from 2003 through 2013, and had great success with the Bruins, reaching three straight Final Fours from 2006 through 2008. He went 233-107 with UCLA, and brought in premium talent as a recruiter, headlined by future NBA players Kevin Love, Russell Westbrook, Shabazz Muhammad, Jrue Holiday, and Darren Collison, among others. He came to UCLA via Pittsburgh, where he compiled a record of 89-40 and won the Big East twice.
More from Mens Basketball
However, things took a turn for the worse in Howland's last four years in UCLA, as the Bruins won just one NCAA Tournament game, and missed the tournament in 2010 and 2012. His reputation was marred significantly by a 2012 Sports Illustrated story that portrayed him as a hands-off coach who let his players police themselves, and had lost control of his team. Despite a solid year in 2013 (25-10) Howland was fired, and hasn't coached since.
Now after two years away from the game, the 57-year-old Howland will get the chance to turn around a Mississippi State program that has been floundering. Ray went 36-60 in his three seasons with the team, which hasn't been to the NCAA Tournament since 2009. It's not a team with a lot of traditional success–the Bulldogs have only been to the NCAA Tournament ten times in their history. However, they did go dancing six times under former coach Rick Stansbury, so there is recent success to look back on.
We've seen coaches succeed in these situations before. It's a familiar story: the former coach of a high-end program takes over a less well-regarded school and gets it compete with the bigger schools for recruits. Think of Lon Kruger at UNLV, Steve Fisher at San Diego State, or even Bobby Knight at Texas Tech. Not that Howland's Bobby Knight, but you get the meaning. Howland may be able to have a similar level of success in Starkville.
More from FanSided