Charles Haley says the Cowboys need bad boys like Greg Hardy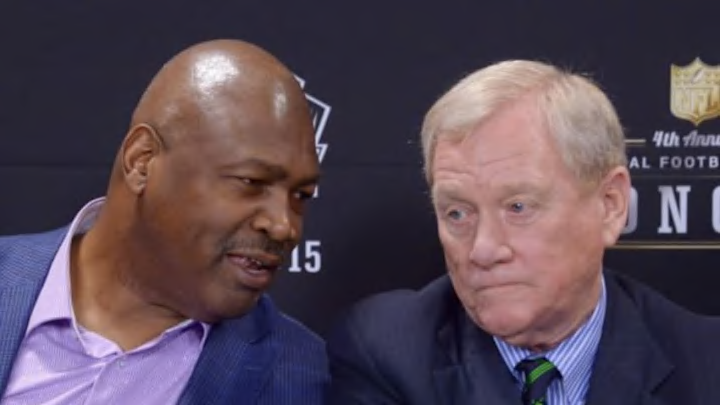 Jan 31, 2015; Phoenix, AZ, USA; Charles Haley (left) and Bill Polian speak during a press conference to introduce the 2015 Pro Football Hall of Fame inductees at Symphony Hall. Mandatory Credit: Kirby Lee-USA TODAY Sports /
Charles Haley believes that the Dallas Cowboys need productive bad boys at times, just like Greg Hardy.
---
For those reading who do not know Charles Haley, the Dallas Cowboys' defensive end in the 1990s was arguably the reason why the Cowboys won three Super Bowls in that decade. The San Francisco 49ers traded him away because he was a locker room nuisance. Even though the Cowboys knew they were bringing in a headache and a guy that could potentially blow up their defense, the fact of the matter was that Jimmy Johnson believed he could not only manage Haley's temper, but also get the most out of him on the football field as well.
Talking about Greg Hardy with the Dallas Morning News, Haley told Cowboys' writer Rick Gosselin that the Cowboys need productive bad boys like Hardy at times. Hardy is coming to Dallas with baggage, but Haley reiterated that his situation when he came to Dallas was much, much worse.
""Bags?" Charles Haley mused, "I had suitcases. Full suitcases.""
More from Dallas Cowboys
According to Jeff Pearlman, who wrote the famous Boys Will Be Boys: The Glory Days and Party Nights of the Dallas Cowboys Dynasty, Haley would run around the team locker room without any clothes on. However, Haley received counseling all the time for his immaturity and his anger management issues.
"When I see guys having issues, I tell them the people I went to (for counseling) and how, now, I'm successful," Haley said. "It didn't affect how I played. I could still be aggressive on the field. But I could listen off it. That was my problem. I never listened. I was always aggressive.
Haley went on to say that he thinks everyone deserves a second chance.
Haley also talked about the 2015 season and how Hardy will help the Cowboys as they embark on a journey to winning their first Super Bowl since the 1996 season.
""He's going to be fine," Haley said. "I can't wait to meet him and I can't wait to see him play. I hope and pray the Cowboys make the next step in this journey for a Super Bowl. Sometimes bad boys have to come in here and kick some tail.""
With all of this being said, one conclusion for Cowboys fans is that immature players have come here and had success. Hardy is coming to the Cowboys under different circumstances than the ones Haley came with, but the fact of the matter is that Haley produced for the Cowboys, which gives reason that Hardy could very well do the same.
More from FanSided