Dwyane Wade slips hard, Iman Shumpert just doesn't care (Video)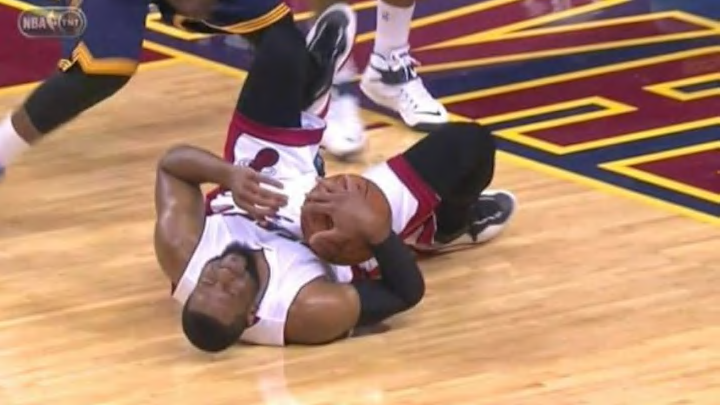 Dwyane Wade went down hard against the Cavaliers, and Iman Shumpert couldn't have cared less about it. 
---
More from Cleveland Cavaliers
The Miami Heat need to have Dwyane Wade healthy if they want to make a serious run at the NBA Finals, but that took a bit of a blow on Thursday night.
Wade went down awkwardly in the second quarter against the Cleveland Cavaliers, and he failed to get up for two possessions. The Cavaliers had a possession with Wade on the ground and the Heat got the ball back with Wade still on the court. But it wasn't the second possession that was the killer — it was the first possession the Cavaliers controlled because it involved Iman Shumpert pick pocketing an injured Wade.
Iman Shumpert smelled the blood in the water, and rather than let Wade wallow in his pain, he went after the ball in a display of no f-cks given.
Like candy from a baby.
Then again, what was Shumpert supposed to do? Wade getting hurt is the last thing anyone in the NBA wants because it makes the playoff field less competitive. But Shumpert isn't in the business of helping out an injured opponent, he's in the business of winning.
You don't make friends when you win — or when you slip and open yourself up to a pick pocket steal.
More from FanSided