Frank Kaminsky tweets what we all feel about Kentucky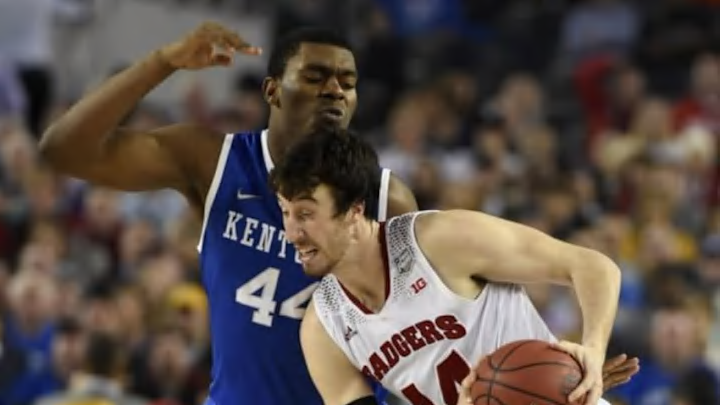 Apr 5, 2014; Arlington, TX, USA; Wisconsin Badgers forward Frank Kaminsky (right) drives against Kentucky Wildcats center Dakari Johnson in the second half during the semifinals of the Final Four in the 2014 NCAA Mens Division I Championship tournament at AT&T Stadium. Mandatory Credit: Robert Deutsch-USA TODAY Sports /
The Wisconsin star center is gearing up to play Kentucky in the Final Four on Saturday night in Indianapolis.
---
Wisconsin center Frank Kaminsky became a household name again, guiding the Badgers to a second consecutive Final Four appearance.
More from March Madness
Along with Sam Dekker, he has affirmed his status as a first-round NBA prospect, and with the last of the four-team weekend tournaments kicking off on Saturday, Kaminsky has either enjoyed more attention or endured more scrutiny, depending on the point of view.
The Kentucky Wildcats are a familiar foe. Last year, the tournament saw an instant classic played between the Badgers and the Wildcats in the round of four. Wisconsin lost 74-73 on an Aaron Harrison three-pointer. The Badgers went 19 for 20 from the free throw line, just bad enough to lose.
Of course, fans were digging for any other angle to juice up the rivalry, and they found this biting remark from Kaminsky's high school days.
I knew I felt something about Kentucky, but I wasn't sure how to properly express it. Thank you for making me understand how I feel, Frank Kaminsky, and thank you for doing so in such a concise way.
And thank you to the kind soul who spent their day looking through Kaminsky's vast Twitter account. Even the author himself was baffled by your dedication. Bravo.
Although this tweet was sent out four years ago while Kaminsky was still in high school, it is doubtful that his opinion has changed at all. In last year's Final Four game, Kaminsky was held to only eight points and five rebounds as the Wildcats keyed in on stopping him on defense.
With Dekker's emergence, it will undoubtedly be more difficult for the Wildcats to stop the Badger's offense, but the Kentucky team that Kaminsky faces enjoys the benefit of incredible inside depth and length that no other team in the country can match.
The round of four starts on TBS with the Duke v. Michigan State matchup at 5:09 ET, and is followed up by Kentucky v. Wisconsin at 7:49. Viewers will undoubtedly be tuning in to see Kaminsky unleash his terse rage upon Kentuckians and their team.
Next: Frank Kaminsky, Willie Cauley bonded over Super Smash Bros.
More from FanSided