Josh Hamilton suspension may come soon: Was his contract a mistake?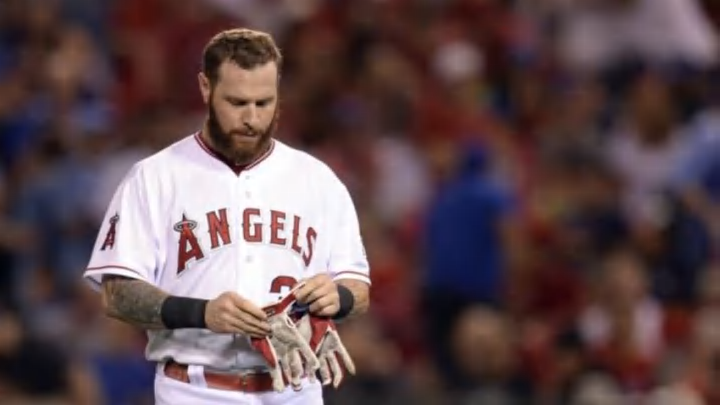 Oct 3, 2014; Anaheim, CA, USA; Los Angeles Angels left fielder Josh Hamilton (32) heads back to the dugout after striking out against the Kansas City Royals in the third inning in game two of the 2014 ALDS playoff baseball game at Angel Stadium of Anaheim. Mandatory Credit: Robert Hanashiro-USA TODAY Sports /
Josh Hamilton is on the disabled list until May, but a violation of MLB's substance abuse policy could him off the field even longer.
---
Los Angeles Angels outfielder Josh Hamilton has had a high-profile battle with substance abuse throughout his career, but that did not stop the Angels from throwing big-time cash at him during the 2013 offseason.
More from Los Angeles Angels
It appears that Hamilton's demons have came back to haunt him. After admitting to a relapse in his recovery earlier this year, he could be facing another substance abuse-related suspension, his first at the MLB level.
The decision on Hamilton's suspension is expected to come shortly after Opening Day. Normally there would have been a swifter process on making the decision, but with Hamilton on the disabled list until May, there is less sense of urgency on the matter.
""I think that we'll have something on Hamilton in relatively short order," MLB Commissioner Rob Manfred said on SiriusXM radio yesterday. "(The process) probably has been a little slower just because he's not available to play.""
Regardless of the outcome of the decision from the league office, one thing is clear: the Angels decision to award Hamilton with a 5-year, $125 million contract in 2013 was a mistake of epic proportions.
His history of drug and alcohol abuse is not what makes the contract a disaster, but the fact that nearly a decade of hard-living has to have taken a serious toll on his body. Also, his decision last season to limit the role of his "accountability coach" is troubling, especially considering that his latest relapse came less than a year after the decision.
Hamilton's battle with drugs and alcohol began shortly after being selected No. 1 overall in the 1999 MLB Draft. A 2001 car crash left him seriously injured, and a downward spiral transpired almost simultaneously.
A once-promising prospect, Hamilton's addiction nearly cost him his career in professional baseball before he made a commitment to sobriety late in 2005. After nearly a decade away from baseball and in the minors, Hamilton finally made his Major League debut with the Cincinnati Reds in 2007. He was traded to the Texas Rangers after the season, and was an instant success.
In 2010 Hamilton was named the American League MVP and batting champion while he led the Rangers to the first of back-to-back World Series appearances, the first in the organizations' history.
His outstanding performance earned him a major payday, in Los Angeles Hamilton is entering his third season with the Angels, and unfortunately, he has not lived up anywhere close to his huge contract.
He belted a mere 21 home runs in his first season with the team while batting .250, something completely unacceptable for the a former MVP and batting champ. Last season was cut short with a shoulder surgery and that has Hamilton already starting this season on the disabled list, with a suspension very possibly looming in the near future.
One thing that could help Hamilton once he returns to the baseball diamond is the resolve and commitment he has exhibited since Day 1 of his comeback, and I do not expect him to back down from this adversity. Him admitting the relapse and initiating the decision to get the help he needs on his own accord shows a glimpse into the mind of a man that will do whatever it takes to be the best he can be.
Unfortunately, it appears that his body is breaking down on him and he is running out of time to be able build it back and become the elite hitter he was in Texas.
Sorry Angels fans, but the Josh Hamilton of old is not coming back with the level of play that his salary deserves.
More from FanSided